Your Lie in April Season 2: Will There Be Another Season to This Heart-melting Anime?
A simple Rom-com that flutters your heart!
Your Lie in April also called 'Shigatsu Wa Kimi No Uso' is a hugely popular Japanese romantic manga series. The series is based on Naoshi Arakawa's dramatic comedy manga of the same name. A-1 Pictures produced this series adaption in 2014, followed by an OVA in 2015.
There is many beautiful slice-of-life anime out there, but Your Lie In April stands out for its music. Even if you don't know much about classical music or aren't a big lover, this anime will undoubtedly be an exception.
The anime's brilliant colors, as well as the soundtrack, play an important role in conveying the message. Kousei, one of the major protagonists, lives in a world of muted, repetitive colors. Because of his remarkable piano abilities, Kousei Arima has earned the moniker "human metronome" among his peers and academics.
After the sad death of his mother, who was his primary inspiration for creating music, Kousei is unable to hear or feel his own music. He makes the decision to leave his music profession behind and begin a new life, leaving behind his lovely piano days. But all of this changes when Kaori enters his world.
So, here's what we know about the Your Lie in April Season 2
Your Lie in April Season 2: When Is the Anime Releasing?
If you explore the internet for speculations about the show's renewal, you'll find a lot of them, but nothing has been officially confirmed. The possibilities of a second season are slim to none. At the end of the first season, the tale was well wrapped up. For Season 2, there are no more unresolved ends or cliffhangers to investigate.
Also Read:
One Piece Film Red: What New Adventures Are Coming in the One Piece Universe?
Jujutsu Kaisen Season 3: Will There Be Season 3 of the Supernatural Anime?
The first season of Your Lie in April premiered on October 10, 2014, and concluded on March 20, 2015. The series is made up of 22 episodes with a total running time of 22 minutes. It's difficult to predict the exact release date of Your Lie in April Season 2 because the creators have yet to announce it. Season 2 will premiere in late 2023 if the creators opt to continue the show before the end of 2022.
Your Lie in April Season 2: What's the Storyline of the Anime?
This slice-of-life anime is filled with every emotion, it's truly one of a kind.
Time passes and owing to his mother's terrible death, Kousei's resolution to not return to his old life of admirers and competitiveness remains intact. Instead, he lives in a dull black and white world with two friends named Ryouta Watari and Tsubaki Sawabe.
Despite the fact that he has friends, Kosei grows alone and reserved. He hasn't played or even listened to the piano in over two years. Until a free-spirited musician named Kaori enters his life. With the support of Kaori, Kosei returns to the music scene and falls in love with her. He believes, however, that his love is unrequited.
Kaori's health begins to deteriorate soon after, and Kosei loses another loved one during a music presentation. When Kaori passes away, her parents present a letter to Kosei from her. She says that she knew she was going to die and that before she died, she wanted to spread joy and bring Kosei back to the world of music. She also admits that she has long admired Kosei and wants to collaborate with him on music.
We all want to know what will happen next in Kosei's life after such a painful and wonderful tale. Fans have been begging for Your Lie In April season 2, hoping for a better future for Kosei and his music.
As per the creator, the majority of the plot has already been resolved, so there will be no more seasons of Your Lie In April in the near future. In April, Kaori told a falsehood about liking someone else and not being sick. As a result, the show has come to an end, and it is unlikely that the creator would return for a second season unless a compelling plot emerges.
Your Lie in April Season 2: Who Are the Main Cast of the Anime?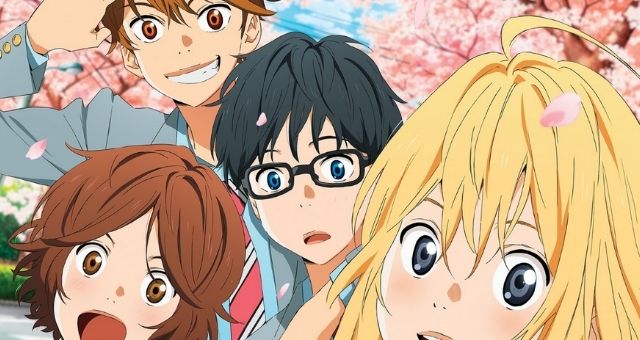 The anime characters did a fantastic job of bringing the show's splendor to life.
The first character is Kousei, performed by Kento Yamazaki. He was formerly a gifted pianist who was the Saki competition's youngest-ever winner. Then there's Kaori, who is voiced by Suzu Hirose and is a violinist who reintroduces Kousei to music after his mother's death. She encourages and stimulates him to pursue his talent once more. If it hadn't been for her, Kousei would never have awoken from his life of monotony and misery.
Also Read:
Suzume No Tojimari: What We Know So Far About Makoto Shinkai's Upcoming Film?
Kingdom: What New Adventures Are Coming to the Season 4 of Historical-fiction Anime?
Then there's Tsubaki, played by Anna Ishii, who has been friends with Kousei since they were youngsters. She watched him grow as an artist and was there for him every step of the way. She admits to having a crush on him, but she doesn't appear to realize it.
Yuki Kaji provides the voice of Takeshi. Like Kousei, he has been playing the piano since he was a small child. He exercises every day. Early on, Takeshi was impressed by Kousei's methodical and superb performances, and he hoped to one day surpass him.
Trailer!
Because the anime's plot is fairly generic, many anime fans dismiss it. However, judging it solely on the basis of its plot would be unfair because there is so much more to it. 'Your Lie in April,' in addition to being visually and musically stunning, goes deeply into its plot and conveys the message that 'love can heal any wound.' The show's themes alternate between music, love, and sorrow, all of which hit you square in the stomach.
As the series has not been renewed yet, there is also no official trailer for Season 2 of Your Lie in April. But, for the time being, let us just enjoy the trailer of the first season of this ultimate romance anime.