Suzume No Tojimari: What We Know So Far About Makoto Shinkai's Upcoming Film?
Suzume no Tojimari, Makoto Shinkai's new work, is officially coming!
'Your Name' was released in 2017, and it surpassed Spirited Away as the highest-grossing anime film of all time. Weathering With You, his second anime film, went well as well, and it is presently the sixth highest-grossing anime film in the world. Both films were critical and fan favorites in addition to being box office successes. People always notice the amazing animation in his flicks, making them a must-see in theatres.
Makoto Shinkai is also known for his classic projects like Garden Of Words, Children Who Chase Lost Voices, and 5 Centimeters Per Second.
So, here's what we know so far about the new film.
Suzume No Tojimari: When Is the Anime Film Releasing?
Suzume no Tojimari, Makoto Shinkai's forthcoming film, has been given an official release date. According to sources, the anime film will premiere in Japanese theatres on 11 November 2022, marking the director's first film in three years. Suzume no Tojimari follows the narrative of Suzume, a 17-year-old girl who must find and close doors all around Japan in order to prevent tragedies.
Also Read:
Don't Hurt Me My Healer: What Does the Fantasy Anime Holds for Us?
Death Note Short Stories: The Story With Immense God-complex Is Coming Back!
We, still don't have details about the international release. But, Shinkai's earlier projects, It was released in Japan in July 2019 for Weathering With You. GKIDS bought the film's rights and released it in North America in January 2020. Your Name had its world premiere at Anime Expo in July 2016, followed by a cinema release in Japan in August of that year.
The anime film was not released in North America until April 2017, when it was released in cinemas. Thankfully, anime films are now much more readily available in other countries.
Suzume No Tojimari: What's the Storyline of the New Film?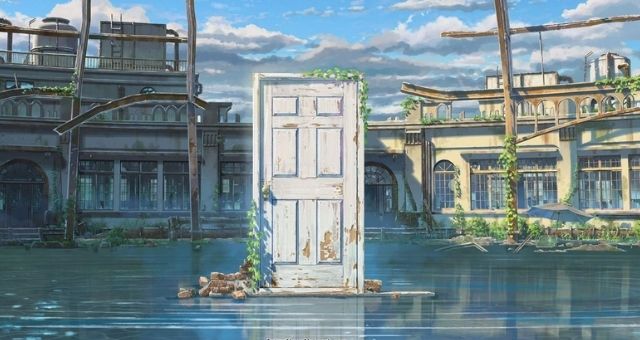 According to the press release, Suzume no Tojimari is simply a working title, but considering the main character's name is Suzume, it might stay.
We don't know much about this film beyond the teaser trailer. Makoto Shinkai, according to the press release, said a few words to create the tone of the film. "We must think about how to lock the various doors we left open," director Makoto Shinkai said. "Suzume has been given that job as she travels across Japan, closing various doors. It is my honest goal that when viewers leave the theatre, they will be filled with joy and enthusiasm."
The official sources provide more information about the plot. Suzume, a 17-year-old from Kyushu, meets a young man looking for a door; which ties back to the themes Shinkai mentioned in her statement. When the title character comes across a weathered door, it opens up portals all throughout Japan. Suzume's mission is to save the day and find a means to seal these portals, which appear to cause disaster wherever they open.
Suzume is "dazzled" by the first door, which is located in the heart of a run-down and flooded area. That could provide some insight into the plot's setting. Doors start to open one by one across Japan, wreaking havoc on anybody who comes close. To prevent possible calamity, Suzume must close these portals.
Now, the question is, Could this movie take place in the same universe as Shinkai's previous two? We still don't know about that, so let's wait for this upcoming movie.
Who Are Involved in the Production of the Anime Film Suzume No Tojimari?
The upcoming film Suzume no Tojimari, is going to be a classic work involving many people.
Also Read:
Aoashi: What We Know So Far About the New Sports Anime?
Slow Horses Season 2: Release Date, Cast, Storyline And What Not?
Shinkai started working on the movie in January 2020, and animation production began in April. Shinkai wrote the story, wrote the screenplay, and is directing the film. The character designer is Masayoshi Tanaka, the animation director is Kenichi Tsuchiya, the art director is Takumi Tanji, and the film is produced by STORY Inc with CoMix Wave Films. The distributor will be Toho Co. Inc.
What Are Makoto Shinkai's Most Well-known Projects?
While we wait for Suzume no Tojimari to arrive, this is the ideal moment to catch up on Makoto Shinkai's earlier hits.
Makoto Shinkai's 2016 film "Your Name" was a box office smash in Japan, now sitting as the country's fifth highest-grossing film and the third highest Japanese cinema and anime feature ever, trailing only "Demon Slayer: Mugen Train" and Hayao Miyazaki's "Spirited Away." The picture earned $358.1 million worldwide and is currently being planned as a live-action remake.
It is recently listed as No. 70 on IMDB's Top 250 Films list. "Weathering With You," his follow-up, is barely outside the top 10 on the Japanese box office charts and has grossed a still-impressive $193 million worldwide, even surpassing "Your Name" in the United States with a respectable $8 million.
In addition to the two anime described above, you should look into his earlier work. Makoto Shinkai directed and produced his first film, The Voices of a Distant Star, which is streaming on Crunchyroll. The Asia Pacific Screen Awards awarded 5 Centimeters Per Second Best Animated Feature Film and among his work one of the most visually stunning anime films ever made is The Garden of Words.
"Your Name" and "Weathering With You" may be required viewing depending on how certain narrative events play out. Even if they aren't, you should still watch them since they are absolutely outstanding films.
Trailer!
As we wait for the movie to debut on 11 November, let's enjoy the trailer of Suzume no Tojimari.