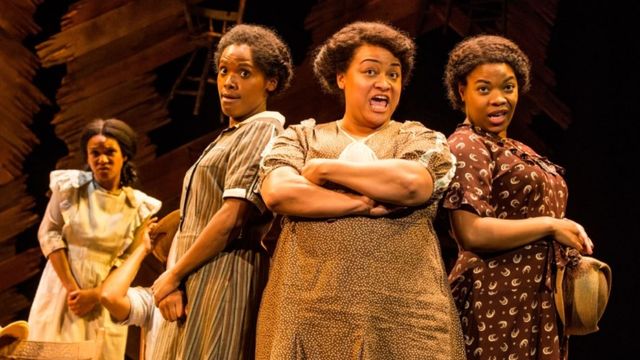 The Color Purple Filming has Officially Concluded, Let's Get to Know About It's Cast!
In 2023, the latest installment of The Color Purple movie will be released on the big screen- Oprah is teaming up with Steven Spielberg, Quincy Jones, and Scott Sanders to bring the Broadway musical The Color Purple to reality. "Reinventing the movie at this moment is like reinventing a sensation," Oprah explains.
Taraji P. Henson, H.E.R., and Jon Batiste are among the great performers and singers in the cast and crew. The group officially finished filming in July 2022, and some of those participating turned to Instagram to reminisce on their incredible experience.
Blitz Bazawule, the film's director (who previously directed Beyoncé's Black Is King), expressed gratitude to everyone involved, especially Lady O, and stated, "I have no doubt we have produced something extraordinary and can't wait to share with the world." Oprah herself said, "It's Gonna be SPECTACULAR—for sure!"
The actors were also emotional. Halle Bailey, who plays Young Nettie, said goodbye on Instagram, writing, "I'm so very thankful to have had this opportunity." When Danielle Brooks, who plays Sofia, finished filming, she stated the part was "life changing." Fantasia, who portrays Celie, posted a photo of a magnificent rainbow that came on set on the final day. Finally, this version's Mister, Colman Domingo, stated simply, "This is going to be amazing."
Oprah made her acting debut as Sofia in Steven Spielberg's 1985 adaptation of Alice Walker's classic The Color Purple, for which she received an Academy Award nomination. Oprah stated that she had "deep down delight" while filming The Color Purple. "Being in that film impacted my life forever. I was doing something that I enjoyed, and I was surrounded by others who shared my enthusiasm. "Every day I was so delighted," she added.
Walker's breakthrough work, first published in 1983, is hailed by Oprah as one of the "national anthems for women's emancipation." Celie, the heroine of The Color Purple, goes through inconceivable hardships while growing up in rural Georgia—and overcomes, due in part to the assistance of the book's other female characters, Sofia and Shug Avery.
The film, directed by Bazawule, is set to premiere in 2023. The script was written by Marcus Gardley (The Chi), and according to Oprah, it is now filled with a form of magical realism- "We get to see and feel what's going on in Celie's imagination."
Related Article- Meet the Cast and Characters of Netflix's "Let It Snow"!
Oprah had the opportunity to personally give the casting news to Danielle Brooks, who played Sofia in the 2015 Broadway musical. Brooks arrived for a surprise meeting via Zoom, thinking she was seeing director Bazawule for a last talk. Instead, Oprah appeared to officially inform her that she had won the role of Sofia.
How much to Wait until Late 2023 to See It?
The Color Purple will be released in theaters on December 20, 2023, according to Warner Bros. There's no news on whether the film will also debut on HBO Max, like Warner Bros.' 2021 releases did. For the time being, you may watch the original film online.
The Cast of the Film is Fantastic, Let's Have A Look on the Cast-
Fantasia as Celie
Fantasia Barrino, an accomplished R&B singer who rose to prominence on American Idol, will play Celie in The Color Purple. "Her rawness and sensitivity, along with her vocal prowess, ensure that Fantasia will knock it out of the park," Oprah adds. "Celie has to demonstrate such a range of emotions, from having little strength to feeling very empowered."
Danielle Brooks as Sofia
Danielle Brooks, best known for her role on Orange Is the New Black, played Sofia, Celie's close friend, in the Broadway rendition of the musical. Oprah praised her performance onstage, so the movie casting felt obvious. "It felt like transferring the torch to Sofia," adds Oprah.
Related Article- Meet the Lopez vs. Lopez Cast- Who are the Stars in George Lopez's TV Comedy?
Taraji P. Henson as Shug Avery
Shug Avery is a very important figure for Oprah. "Shug Avery needs to have a true amount of pure, raw sexuality, as well as be a wisdom instructor. She is the one who serves as Celie's role model. Through Shug Avery, Celie sees the possibilities of what a woman may be and do—the she's one who says God gets angry if you don't recognize the color purple. "She needs to have some knowledge and intelligence while also being attractive as heck," Oprah adds.
Corey Hawkins as Harpo
Oprah chatted with Corey Hawkins about his part in In the Heights earlier this year. When Bazawule viewed Lin Manuel Miranda's film musical, he instantly thought of Hawkins as Harpo, who marries Sofia. "Harpo needs to be kind and pleasant, and he has to express naiveté while yet being supportive of Celie and Sophia," Oprah adds of the role, which they believed Hawkins was a good fit for. "When he said yes, we were all overjoyed."
Colman Domingo as Mister
Mister is an extremely difficult character: he is a controlling figure in Celie's life. Domingo, according to Oprah, will offer fresh nuances to the part. "He can give Mister a multifaceted element, which is what we're going for in this rendition of The Color Purple. There are degrees of Mister that you are unaware of. "We're trying to give him those so you don't only see the bad side," Oprah explains.
Related Article- Is There Going to Be a Game Night 2? Let's Find Out About the Cast/ Release Date & More!
Halle Bailey as Young Nettie
Celie's sister, Nettie, appears largely towards the beginning of the novel but plays an important part due to the siblings' strong bond. "You have to have a presence that occupies the room for the majority of the movie when Nettie is gone and you only know her via the letters," says Oprah.
Nettie will be played by Halle Bailey, one half of the sister combination Chloe x Halle and the heroine of Disney's live-action adaptation of The Little Mermaid. "We picked her because of her ability and presence," adds Oprah.
H.E.R. as Squeak
H.E.R. is a Grammy-nominated R&B musician who makes her acting debut in The Color Purple. "We had our fingers crossed from the minute we approached H.E.R. about performing this job," Oprah adds. We actually went through some times when we didn't believe we were going to get her since she was planned to be on tour. But she rearranged her schedule to be a part of this project. So it was a great day in the Color Purple camp when we found out that H.E.R. would say yes and modify her touring schedule to take the part.
This is all about the fantastic cast of the Color Purple Movie.
Stay Tuned for more Updates!