Meet the Cast and Characters of Netflix's "Let It Snow"!
In this article we will discuss about all we know about the Show- "Let It Snow".
Christmas 2019 hasn't yet arrived, and Netflix has already won the holiday lineup game. Let It Snow, a romantic comedy based on a novel of the same name by Maureen Johnson, John Green, and Lauren Myracle, was recently released on Netflix and is likely the only movie you need to see this Christmas season. The film chronicles a group of high school kids' friendships and relationships when a snowfall hits a tiny town on Christmas Eve. If the storyline isn't enough to entice you, you'll want to see the film just for the star-studded ensemble. Here's a list of all the cast members and the parts they play in the film.
Julie Reyes is played by Isabela Merced (Moner)
Isabela plays Julie Reyes, a student who has been admitted to Columbia University but is unsure if she can attend since she does not want to leave her ailing mother behind.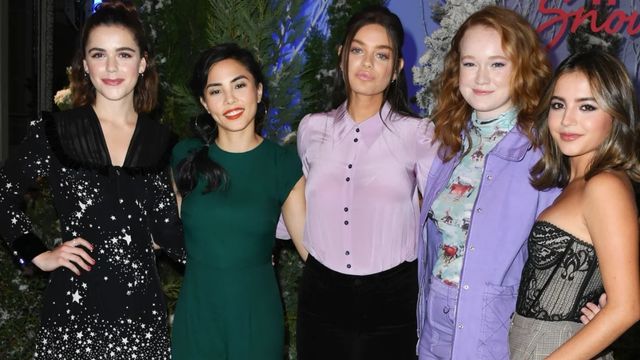 Isabela is most known for her role as Dora in Dora and the Lost City of Gold, but she's also a musician who recently released a track called "Papi."
Stuart Bale is played by Shameik Moore
Shameik plays Stuart, a pop singer who happens to be in town at the time of the snowstorm.
This is not Shameik's first acting role. He plays Shaolin in the Netflix series The Get Down and Malcolm in the independent film Dope. He also provided the voice of Mile Morales in Spider-Man: Into the Spiderverse, an Academy Award-winning animated feature.
Kieran Shipka plays The Duke, also known as Angie
Kiernan portrays a young woman who finds herself in a love triangle with a long-time friend and a new possible love interest named JP.
Kiernan is most known for her role as Sabrina Spellman on The Chilling Adventures of Sabrina, but she also played Sally Draper on the AMC series Mad Men.
Tobin is played by Mitchell Hope
Tobin must deal with the truth that he is secretly in love with his closest buddy in Let It Snow.
If you're a Disney lover, you'll recognize Mitchell from the Descendants films as Benjamin, Belle and the Beast's kid.
Related Topic- Netflix has Renewed Hellbound Season 2 for a Second Season!
Liv Hewson as Dorrie
Dorrie is a Waffle Town employee who has a crush on a cheerleader.
If Liv looks familiar, it's because they played Abby Hammond in the Netflix series Santa Clarita Diet. They're also working on a new movie called Bombshell.
Anna Akana as Tegan
Anna portrays Tegan, a cheerleader that Dorrie has a crush on.
Anna is most known for her YouTube channel, which has over 2 million subscribers, but she has also been in TV shows such as Awkward and the Comedy Central program Corporate.
Odeya Rush as Addie
Dorrie's best friend, Addie, is convinced that her boyfriend is about to cheat on her.
Odeya has as Fiona in 2014's The Giver, Goosebumps, based on the R.L. Stine novels, and Dumplin', a Netflix original film released in 2018.
Related Topic- Transylvania Hotel Learn About all the Cast and Characters in This Animated Comedy's Cast!
Keon is played by Jacob Batalon
Dorrie's coworker is Keon. He wants to take advantage of the weather to organize a party at their workplace.
Jacob is most known for his portrayal as Ned Leeds in Spider-Man: Homecoming and its sequel, as well as Avengers: Infinity War and its sequel.
Mason Gooding
Mason portrays Jeb, Addie's concerned boyfriend.
Mason's previous roles include Nick in Booksmart and Parker Jones in the TV show Ballers. He's also expected to portray Andrew in the forthcoming Love, Simon, which is based on the novel Simon vs. the Homo Sapiens Agenda.
Matthew Noszka
Matthew portrays JP, a college student who is also a buddy of the Duke.
Matthew is well-known for his modeling profession. Matthew was found after a shirtless selfie he uploaded of himself next to a deck he helped build went viral.
Miles Robbins
Miles portrays Billy, another Waffle Town employee.
Miles has appeared in a number of films, including Blockers, Halloween, and the X-Files. Tim Robbins and Susan Sarandon, both actors, are among his famous parents.
Stay Tuned for more such Updates!