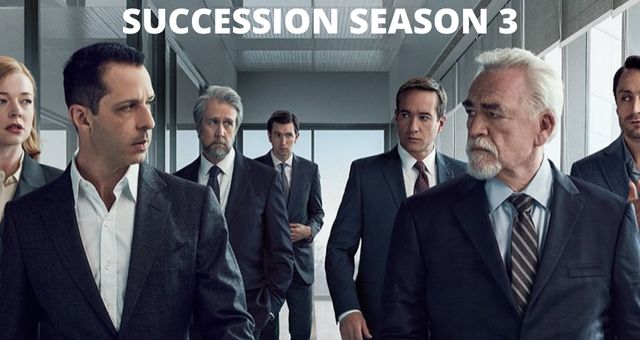 Succession Season 3: Top Characters in and Outside of Roy Family That Are Just Incredible to Watch!
With is the most opportunistic, who could use it the greatest, and who should be catastrophically misled by it are the three key factors in determining Succession season 3. The Roy family, who owns the media company Waystar Roy Co, is the main storyline of the Succession. Logan Roy, the leader of the family, seems to be less well.
His four children included politically engaged Shiv, authoritative Kendall, rebellious Roman, as well as his banished oldest son Connor. Every one of them, who has varying degrees of ties to the business, starts to get ready for life without the father and starts competing for positions of authority therein.
Throughout HBO's Succession, fragile alliances and uncontrolled egos rule the corporate world. By creating a narrative with characters as huge and audacious as its goals, the creator of the series Jesse Armstrong solidifies its position among some of the finest television programs of all time. We will always remember the fictional media corporation Waystar Royco's executives.
Succession season 3 turns its protagonists into characters deserving of our curiosity and sympathy by filtering them through a spinning lens of luxury, greed, and self-interest. See which ones may be distinguished as being the finest at what they are doing.
1. Logan Roy
The Roy family monarch has no intention of relinquishing the crown any time soon. He would rather let his kids blast each other off over leftovers than hand up the legacy to someone he thinks is undeserving. Logan won't likely ever really be fired as CEO until he passes away from a terminal disease or has a deteriorating state of mind. Which is really difficult!
Logan, played by Brian Cox, comes out on top in  Succession season 3. He defeats Kendall, prevails at the shareholder meeting, survives the Department of Justice inquiry, but for what appears to be the last time, outsmarts three ambition-driven kids. His tale was always one of triumph, but in Succession season 3, when the stakes are too high than ever, he looks particularly "bulletproof," as Lukas describes it.
Logan Roy is indeed a legend who is rarely matched. No matter whatsoever they believe they had upon him, his premeditated brutality makes it incredibly difficult for his kids to win against him.
Also Read:
He manipulates the Waystar pyramid to highlight the dishonest and deceitful, making the slightest suggestion of turning against him a career-ending proposition. Even though he's nasty, explosive, and always curt, we still enjoy his psychological tricks.
2. Tom Wambsgans
It's worth halting to briefly review the Tom going to jail narrative that made little contribution to the Season 3 general storyline but ultimately impacted everything. Tom went from being Shiv's kept man to the far more powerful individual of the Roy family outside of Logan.
Tom offered to assist the fall earlier this season when the DOJ probe was looming and prison time as possible for the at least just a few key executives. He did this to demonstrate his loyalty towards Waystar Royco and also the larger Roy family. Tom, played by Matthew Macfadyen, is an irrelevance from the moment he joins the cast as Shiv's lover in season one. Through the third season's end, that has changed.
Tom, a native of the Twin Cities who came from nothing, is constantly struggling to catch up with the Roys. As he suffers blow after blow, Greg, the one and only person he has any control over, is dragged alongside him. Tom presents himself to Logan as that of the public image of the issue, should this come to that, also as the former chief of a cruise division. Logan tells him that it won't, yet his son-in-law gains a lot of favor by doing so.
Logan may have survived the siblings' attack if Tom hadn't warned him. He decides to prioritize his objectives for the very first time, much like Shiv most certainly would have decided if their circumstances were switched.
3. Greg Hirsch
Greg was perhaps the most naive of the Succession protagonists at the start of the show. Cousin Greg seems to be the only blood relative left who had been on Logan Roy's brighter side, aside from Connor. Logan couldn't even recall his name because he would have grown up just outside of the Roy family's close-knit lie circle.
Greg has become tainted by his involvement with them since entering their ranks, and so as a result, he now fears the Justice Department, Logan's fury, and Tom's frightening affection. Towards the conclusion of season 3, however, when Tom urges Greg to accompany him further into corporate fire foolishly, Greg receives his actual heat test.
Also Read:
He is moving away from the never-ending middle but towards the bottom of something like the top, wherever which could be as among over 20 through his own Gregs are waiting for him. He is unsure of what would be there.
Where things stand, he might wait it out, take full control of a Buffalo theme park, defend himself against the Greenpeace case, and monitor Comfrey. That was quite the comeback for the young person who previously had to grovel to a doorman for money to pay for his cab ticket.
4. Connor Roy
The Eldest Son would have the most Connor-like week possible, including both a significant triumph and several humiliating failures. On the negative side, Lukas Matsson wishes to stop people like him and he has been not informed of the intended merger of equals.
Connor Roy, a character created by Alan Ruck, seems to be the Roy family's bad apple. Connor, Logan's sole son after his first wife, feels neglected and underappreciated. This grandiloquence frequently makes his speech unintelligible, and his haughtiness rivals that of his brother Kendall.
He adamantly claims to be brighter than everybody else in the room, despite overwhelming evidence to the contrary. Although Connor's rants may suggest a latent intelligence, he lacks humility, curiosity, and an eagerness to learn.
However, Connor, the eldest son, has now grasped where he stands in the hierarchy. Even though Kendall's intervention prevented him from saying everything he wanted to, he still ends the season with a shot for the presidency with his amazing first lady beside his shoulder. Any other of the Roy children would probably be content to switch places with him at this moment.