Ryan Seacrest Net Worth & More!
Ryan Seacrest is a $450 million net worth American radio personality, television host, producer, and entrepreneur. Ryan earns between $60 and $80 million per year from his entertainment and business empire. As the host of "American Idol," Seacrest rose to national prominence. He also hosts the syndicated countdown show "American Top 40" and the KIIS-FM morning radio show "On Air with Ryan Seacrest" for iHeartMedia. In May 2017, he began co-hosting "Live with Kelly and Ryan." He is the executive producer of several popular reality shows, including "Keeping up with the Kardashians" and its numerous spinoffs.
Ryan Seacrest parlayed a successful radio career into a television hosting career that only Dick Clark can match. He is best known for his work as a host on the popular reality competition series "American Idol," and he also hosts the radio show "American Top 40." He has also hosted a number of award shows, red carpet events, and New Year's Eve celebrations in New York City. In the early 2000s, he began adding producing credits to his resume with reality shows such as "Keeping Up with the Kardashians," "The Shahs of Sunset," and his own "American Idol."
Early Life
Ryan John Seacrest was born on December 24, 1974, in Atlanta, Georgia. He was raised in Dunwoody, Georgia. Ryan used to enjoy hamming it up with a toy microphone when he was a kid. When he was a teenager attending Dunwoody High School, he interned at radio station WSTR-FM. When the DJ called in sick, Seacrest got his first chance to be on the air.
Related- Travis Scott's Ex-Girlfriend, Rojean Kar, Claims He Often Cheats On Kylie Jenner
He performed so well that the station assigned him to the weekend overnight shift. He graduated from high school in 1992 and went on to study journalism at the University of Georgia. He dropped out after his freshman year and relocated to Hollywood to pursue a career in radio.
Career
Seacrest moved to Los Angeles in 1993 and got his first big break that year, hosting ESPN's "Radical Outdoor Challenge." He hosted "Gladiators 2000," the kids' version of "American Gladiators," from 1994 to 1996. He hosted "Wild Animal Games" in 1995 and "Click" in 1997. During this time, he also appeared on "The Final Proof" episode of "Beverly Hills, 90210" as the hose of a fictional game show called "Lover's Lane." Seacrest hosted "NBC Saturday Night Movie" in the second half of 2000. Seacrest hosted the practical joke show "Ultimate Revenge" from 2001 to 2003.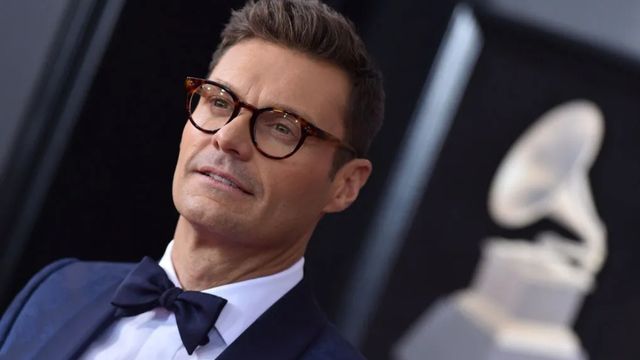 In 2002, Seacrest was approached to host "American Idol," a new competition-style reality show on Fox. We can all guess what happened next. Ryan Seacrest rose to fame as the host of "American Idol." Seacrest hosted "American Idol" until the show's final season on Fox in April 2016. He also returned for the second season of "American Idol" on ABC.
Related- Gabriel Iglesias Wife, Family, Height, Kids, Net Worth 2022, Etc.
In February 2004, Seacrest took over the morning show at Los Angeles radio station KIIS-FM, replacing Rick Dees. "On Air with Ryan Seacrest" airs Monday through Friday from 6 a.m. to 10 a.m. Pacific time. Seacrest has been the executive producer and co-host of "Dick Clark's New Year's Rockin' Eve" since 2005. Clark had recently suffered a stroke the previous year, and Seacrest took over much of the New Year's Eve hosting duties. The annual show was then renamed "Dick Clark's New Year's Rockn' Eve with Ryan Seacrest" by ABC in 2009. Seacrest extended his contract with the show in 2013. Seacrest hosted the New Year's Eve special for the 15th time in 2019.
Personal Life
Seacrest revealed his two-year on-and-off relationship with model Sara Jean Underwood, on The Howard Stern Show in 2009. In April 2010, Seacrest began dating Julianne Hough of Dancing with the Stars. Their relationship ended on March 15, 2013. They dated for over two years before splitting up. On May 14, 2016, he returned to the University of Georgia to give advice to alumni and was awarded an honorary Doctor of Humane Letters degree.
Seacrest has been in an on-again, off-again relationship with model and personal chef Shayna Taylor since 2013. They were introduced by mutual friends. They split briefly in 2014, moved in together in May 2017, and split again in February 2019. By September 2019, Seacrest and Taylor were back together. On June 29, 2020, it was announced that the couple had divorced for the third time.
Related- Alex Rodriguez Earnings, Personal Life & More!
After the breakup, Taylor posted on Instagram, "You will never need to convince the right person to love you. No matter what, you cannot change them, make them do the work, or get them to commit to you if they're not ready to show up. Change must be inspired from within, and actions are always louder than words." She was reportedly ready to marry, while Seacrest, 45, was not.
Salary Highlights
In July 2009, Seacrest agreed to a $45 million contract extension to continue hosting American Idol, making him the highest-paid reality television host at the time. In April 2012, he agreed to a two-year, $30 million contract extension as host of American Idol. In May 2014, it was reported that Seacrest had agreed to a one-year contract extension.
His initial multi-year contract for the ABC reboot of American Idol was reported to be worth more than $10 million. Ryan Seacrest earned $74 million between June 2017 and June 2018. He earned $72 million between June 2018 and June 2019. Ryan earned $60 million in the same time period between 2019 and 2020.
Real Estate
Max Mutchnick, the creator of "Will & Grace," sold a Beverly Hills home to Ellen DeGeneres for $29 million in 2007. Ellen, according to reports, walked through the house one day and told Max she wanted to buy it. Max chose a figure that was twice what he had paid, and Ellen agreed. Ellen sold the house to Ryan for $36.5 million in 2011. A year later, he paid $2 million for the next-door property.
The 9,200-square-foot mansion now sits on 2.87 acres and features nine bedrooms, 11 bathrooms, a pool, two attached guest houses, a separate three-bedroom house, and lush gardens. Interestingly, after Ryan became the owner, Max Mutchnick contacted him and expressed regret for not completing the renovation and design he had planned years before.
Stay Tuned for more Updates!