Katie Holmes Dating: Every Star She's Dated| Married| Divorced| Latest Updates!
Katie Holmes is a $25 million dollar net worth American actress. With her appearance as Joey Potter on the TV sitcom "Dawson's Creek," she became a household name. She rose to international prominence as a result of her marriage to Tom Cruise.
Who is Katie Holmes?
Kate Noelle Holmes was born on December 18, 1978, in Toledo, Ohio. Her mother, Kathleen, was a philanthropist and housewife, while her father, Martin Joseph, was an attorney. She is the youngest of five siblings, with three older sisters and one younger brother.
When she was fourteen, Holmes enrolled in a modelling school in Toledo, which led to her participation in the International Modeling and Talent Association (IMTA) Competition in New York City in 1996. She was signed to an agency after giving a monologue from "To Kill a Mockingbird," who forwarded her audition tape to the casting director of "The Ice Storm" (1997). The picture marked her feature film debut, with Kevin Kline and Sigourney Weaver.
Read More:– A Glimpse on Devin Booker's Dating Life
In January 1997, while her career was still in its early stages, Holmes travelled to Los Angeles for pilot season. She reportedly turned down a role in "Buffy the Vampire Slayer" to finish high school. Columbia TriStar Television, which was creating a new show called "Dawson's Creek," Also encouraged her to come to Los Angeles.
Holmes, on the other hand, had a schedule difficulty because she was in her school's performance of "Damn Yankees." She read for the part of Joey Potter, the titular character Dawson's best friend, after gaining permission to audition via camera, and subsequently won the part.
Who is Katie Holmes Dating Now?
Katie Holmes is currently dating Bobby Wooten III. In April 2022, the Dawson's Creek star was seen taking a walk with musician Bobby Wooten III in Central Park. Katie has taken Bobby as her date to a lot of red carpet-events since the first time she was seen kissing her new boyfriend. These events include the Moth Ball Anniversary Gala in May and the Tribeca Film Fest in June.
Even though this is a new relationship, it seems to be going very well! A source close to her told HollywoodLife that she's "absolutely smitten" with the bassist. This is still new information. "He is sweet and romantic. They said, "Katie is letting herself feel these feelings, and she knows she deserves love.
Katie Holmes's Dating History
Joshua Jackson
One of TV's most famous couples, Joey (Katie) and Pacey (Joshua), had great chemistry because they really loved each other. After working together on the first few episodes of Dawson's Creek (which debuted in January 1998), the co-stars started dating, but it didn't last long.
Read More:– Who Is Big Latto Dating? Who Is the American Rapper's Boyfriend In 2022?
Joshua has since gotten married to Jodie Turner-Smith, a British model. After getting married in December 2019, they had a daughter in April 2020.
Chris Klein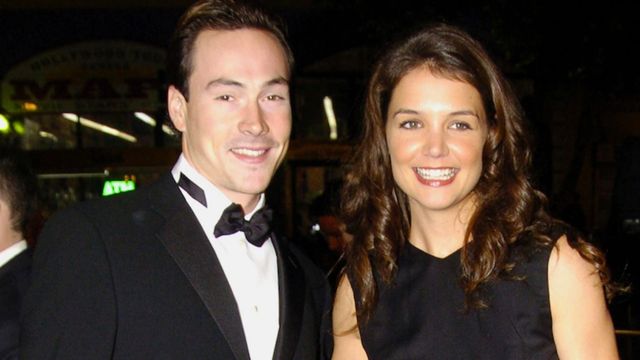 Katie and Chris were a dream couple in the early 2000s. There is no exact date for when this relationship started, but People says that Katie got engaged to the American Pie star in 2003 and broke up with him in 2005, after a "five-year relationship." Later, Chris got engaged to Laina-Rose Thyfault, who works in casting. They got married the next year.
Tom Cruise 
Katie, who was still engaged to Chris Klein in 2004, told a reporter from Seventeen Magazine, "I used to think I was going to marry Tom Cruise." Surprisingly, her childhood dream did come true. In 2005, everything happened quickly for this couple. Katie broke up with Chris, and in April of that year, she made her first public appearance with Tom in Rome. Tom was there to pick up a David di Donatello Award for lifetime achievement.
Jamie Foxx
Katie's next big relationship after Tom was with actor Jamie Foxx, who was in the movie Ray. But in this relationship, no one said they loved each other on national TV. Katie and Jamie were seen dancing together at a charity event in the Hamptons in 2013. This led to rumours that they were dating, but they kept quiet about it. In October of that year, Jamie told Entertainment Tonight that the rumours about them dating were "absolutely not true."
Read More:- Who has Liam Hemsworth dated? Girlfriends List, Dating History
But in 2015, they were caught on camera holding hands. The public didn't see another PDA photo until 2017 when the rumoured lovers were seen holding hands in Malibu. From then on, it looked more and more like Katie and Jamie were together, even if they didn't want to confirm it in public.
Katie Holmes Divorce Settlement with Tom Cruise
From 2006 through 2012, Tom and Katie were married. Suri is the result of their relationship. Tom had a net worth of $250 million when he married. When they married, Katie's net worth was roughly $10 million.
Tom insisted on a good prenuptial agreement since he had a lot more to protect. According to the conditions of their divorce, Tom must pay Katie $400,000 a year in child support for the next 12 years (until the year 2024). That works up to $33,000 every month, for a total of $4.8 million, after all, is said and done. Suri's medical expenditures, schooling, insurance, and any extracurricular activities must also be covered by Tom.
Katie has full custody of Suri and has opted not to raise her in Scientology. Katie received neither spousal support or a lump sum cash payout. Katie reportedly chose not to seek spousal support in order to have complete custody and control over Suri's upbringing.
Stay tuned for more updates!