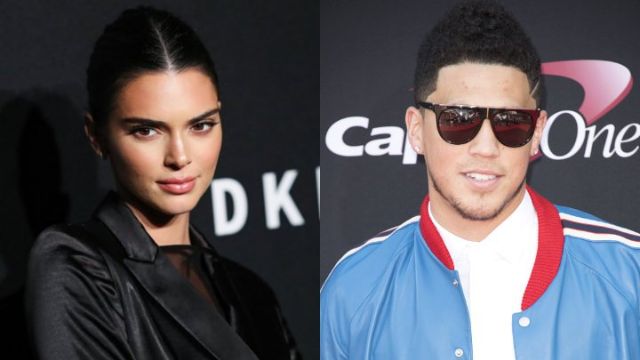 Devin Booker Dating Life: Every Star He's Dated| Married| & Divorced!
Devin Booker, the NBA star, has made headlines both on and off the court in the previous year, particularly because of his budding relationship with his girlfriend Kendall Jenner. Surprisingly, he only has one other ex on his public dating list, and she isn't a favourite of the Kardashian-Jenner family.
Although Booker prefers to keep his personal life private, this is what we do know about his brief, flirtatious, and extremely complicated dating life.
Devin Booker's Dating Life is Brief but Sweet — Learn About His Past and Present Girlfriends
Kendall Jenner
In May 2018, the Phoenix Suns player was photographed on a double date with Kendall and her then-boyfriend Ben Simmons, sparking dating speculations with Kylie Jenner's old BFF Jordyn Woods. According to Us Weekly, the pair split before her devastating infidelity scandal with Khloe Kardashian's ex-boyfriend Tristan Thompson in February 2019 — but neither Jordyn nor Devin ever announced their breakup.
Kendall and Devin originally sparked romance rumours in April 2020 while on a road trip in Arizona, but they didn't make their relationship public until February 2021. Four months later, during the Keeping Up With the Kardashians series reunion special, the model addressed the athlete as her "lover" for the first time. "I'm not ashamed of my type, and I'm also a true basketball lover," she said in June 2021.

The Vogue cover girl also revealed that she and the Michigan native intend to keep their relationship private. "I feel like it's always worked better for me that way, and no insult to my elder sisters at all," Kenny said during the special. "To be perfectly honest, I believe it makes my life a lot simpler and our relationship a lot better." "I simply feel like it's a private subject that no one should judge or know about."
Read More– Kim And Kanye West Divorce
According to a source, it's "just a matter of time" until the pair takes their relationship to the next level. Indeed, Devin "says he's ready to put a ring on it," and he "knows" Kendall "would like some form of commitment" to cement their deep friendship, leaving the 818 founder's renowned family "hoping that something will happen soon."
According to TMZ, Woods and Booker initially ignited dating suspicions in May 2018 when they were sighted on what seemed to be a double date with Jenner and Jenner's then-rumoured BF, Ben Simmons. Two months later, MTO News stated that Woods and Booker were "in love." "I'm not going to say they're getting married because it's still early," the insider allegedly continued, "but they're clearly in a relationship."
However, after numerous suspected dates, some social media flirting, and claiming PDA on a beach, it appeared like Jenner and Booker would declare their romance soon. Then, on Feb. 14, after nearly 10 months of dating rumours, Jenner made their relationship IG official (or, at least, I believe she did) by uploading a sweet couple's photo to her Story.
Read More– Miketoks and Morginia Breakup
Jordyn Woods
According to an Us Weekly insider, the two divorced before Thompson and Woods' kiss in February 2019. Woods and Booker never acknowledged their supposed connection, although Woods did post a rather dodgy tweet when allegations about Jenner and Booker's romance began spreading in April 2020. The day after TMZ aired footage of Jenner and Booker allegedly on a road trip, Woods tweeted, "LOL nice morning," followed by three garbage can emojis. Hmm…
Frequently Asked Questions
Is Devin Booker and Kendall Jenner Still Together?
Yes, the couple is still together. With Caitlyn Jenner, Kendall Jenner stands behind Devin Booker during an NBA game.
Which Cars Does Devin Booker Own?
Booker has a sizable collection of vehicles, including vintage models like the 1959 Chevy Impala that he drove to an NBA Finals game in 2021 and more modern models like the Ferrari 488 Spider. In an interview with Architectural Digest from earlier this year, he displayed several.
Conclusion
Booker and Jenner started whispers about a year ago. The couple was seen on a road trip from Los Angeles to Arizona in April 2020, and the following month, they were observed driving near Van Nuys Airport in Los Angeles. An insider told People at the time that the two were entirely platonic—for the time being. "She and Devin have a lot of shared friends," according to the insider. "For the time being, they're simply pals, but you never know with Kendall." Meanwhile, a source told Us Weekly in June, "They're hooking up, but they're not serious."
I hope you found this article interesting. The website provides up-to-date articles and news. Everything you need to know is right here. Don't forget to bookmark our website Honknews.com for more such articles.