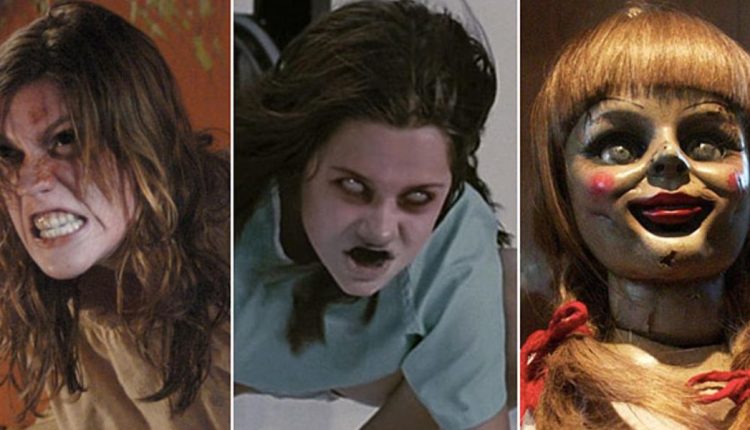 10 Deadly Horror Movies Based on Real Events
Over the years, audiences have been terrified by the various horror films onscreen, and while some jump scares may occur, these audiences should be reminded that it is only a film. However, when it is discovered that the stories are based on true events, things can quickly turn dark.
A variety of real-life crimes and events served as inspiration for filmmakers and screenwriters who brought terrifying tales to life onscreen, whether terrorized by a knife-wielding killer or possessed by a demonic spirit.
Here are 10 scary movies that you may not be aware are based on (or at least inspired by) even scarier real events, listed in order of release, in honor of Halloween.
1. Things Heard & Seen (2021)
In the film Things Heard & Seen starring Amanda Seyfried, a Manhattan couple moves to a historic hamlet where they discover their marriage has sinister secrets involving the history of their new home. The film was based on Elizabeth Brundage's 2016 novel All Things Cease to Appear.
The novel and film are loosely based on alleged paranormal occurrences that occurred in a home rented by Brundage and her husband.
Things Heard & Seen Cast
Catherine Clare Played by Amanda Seyfried
Sheriff Stallings Played by Karen Allen
Willis Played by Natalia Dyer
Justine Sokolov Played by Rhea Seehorn
George Clare Played by James Norton
Floyd DeBeers Played by F. Murray Abraham
Cole Played by Jack Gore
Calvin Vayle Played by Michael Abbott Jr.
Eddy Lucks Played by Alex Neustaedter
Lynne Played by Kelcy Griffin
Tom Clare Played by Cotter Smith
2. Winchester (2018)
Sarah Winchester is portrayed by Helen Mirren in the supernatural thriller directed by Michael and Peter Spierig. The 2018 film Winchester is based on the true story of the Winchester Mystery House, a San Jose, California landmark, and the former residence of Sarah Winchester. The house has remained a mystery due to its renovations and the reported presence of paranormal activity.
After her infant daughter died of a childhood illness and her husband died of tuberculosis, Winchester relocated to San Jose and began renovating an eight-room farmhouse, which she continued until her death in 1922.
According to its website, the Winchester Mystery House has "160 rooms, including 40 bedrooms, 40 staircases, 13 bathrooms, 6 kitchens, 10,000 window panes, 2,000 doors, 52 skylights, 47 fireplaces, three elevators, two basements, and just one shower." Tours are available to visitors.
Winchester Cast
Drake Rodger as John Winchester
Meg Donnelly as Mary Campbell
Jensen Ackles as Dean Winchester
Nida Khurshid as Latika Desai
Jojo Fleites as Carlos Cervantez
Bianca Kajlich as Millie Winchester
Demetria McKinney as Ada Monroe
Michael Tacconi as Hank Murphy
3. The Conjuring (2013)
Ed and Lorraine Warren are portrayed by Patrick Wilson and Vera Farmiga, who are known for investigating the Lutz family. The Conjuring references a previous case involving a terrifying doll. Wilson and Farmiga reprised their roles in The Conjuring 2 (2016) and The Conjuring: The Devil Made Me Do It (2021) as part of the Conjuring universe.
The Conjuring Cast
Sterling Jerins return as Judy Warren
Patrick Wilson as Ed Warren
Vera Farmiga as Lorraine Warren
Sterling Jerins as Judy Warren
4. The Possession (2012)
The Possession was inspired by Kevin Mannis's eBay listing for a "dybbuk box" and accompanying horror story. A dybbuk is a malevolent spirit that can haunt and possess humans in Hebrew folklore.
In "The Possession," a family buys a mysterious old box at a yard sale without knowing what's inside. As the box lets out a bad spirit, their youngest daughter is taken over by it and starts to act in scary and increasingly violent ways. In order to save her, they must figure out the dark secrets of the box and find a way to get rid of the evil spirit.
The Possession Cast
Jeffrey Dean Morgan as Clyde
Natasha Calis as Em
Matisyahu as Tzadok
Rob LaBelle as Russell
Anna Hagan as Eleanor
Jay Brazeau as Professor McMannis
Nimet Kanji as Nurse Patty
Marilyn Norry as Principal
5. The Rite (2011)
Colin O'Donoghue plays Michael Kovak, whose experiences are based on those of Father Gary Thomas, "one of 14 Vatican-certified exorcists working in the U.S." Thomas met journalist Matt Baglio when he was in Rome for school.
Baglio wrote The Rite: The Making of a Modern Exorcist, which is about Thomas's life. Thomas helped keep an eye on how the movie was made.
The Rite Cast
Colin O'Donoghue
Alice Braga
Ciarán Hinds
Rutger Hauer
Toby Jones
Marta Gastini
Maria Grazia Cucinotta
Arianna Veronesi
Andrea Calligari
Chris Marquette
Torrey DeVitto
Ben Cheetham
6. The Haunting in Connecticut (2009)
In 1986, the Snedeker family moved to Connecticut and rented a house that turned out to be an old funeral home. Ed and Lorraine Warren, who are well-known demonologists, said that the house was full of demons.
The things that happen to the Campbell family in The Haunting in Connecticut are based on what happened to the Snedeker family.
The Haunting in Connecticut  Cast
Virginia Madsen as Sara Campbell
Kyle Gallner Kyle Gallner as Matt Campbell
Elias Koteas Elias Koteas as Reverend Popescu
Amanda Crew Amanda Crew as Wendy
Martin Donovan Martin Donovan as Peter Campbell
Sophi Knight Sophi Knight as Mary
Ty Wood Ty Wood as Billy Campbell
Erik Berg Erik Berg as Jonah
John Bluethner John Bluethner as Ramsey Aickman
D.W. Brown D.W. Brown as Dr. Brooks
7. The Strangers (2008)
The 2008 film directed by Bryan Bertino and starring Scott Speedman and Liv Tyler depicted a terrifying home invasion. The story was inspired by actual violent crimes, including the Manson Family murders and the 1981 Keddie Cabin Murders, in which three masked assailants killed four people in a California resort town.
Lionsgate announced on September 13 that the remake of The Strangers will star Madelaine Petsch and be directed by Renny Harlin.
The Strangers Cast
Liv Tyler
Scott Speedman
Alex Fisher
Gemma Ward
Peter Clayton-Luce
Laura Margolis
Kip Weeks
8. Stuck (2007)
After committing a hit-and-run in which the victim becomes lodged in the windshield, Brandi (Mena Suvari), a young nursing assistant, ponders her next move. Brandi is based on Chante Jawan Mallard, a Texan woman who struck homeless man Gregory Glen Biggs and left him impaled on her windshield until he died.
For her crime, she was convicted and sentenced to 50 years in prison.
Struck Cast
Dylan Moran
Morgana Robinson
Juliet Cowan
Clemens Schick
Neil Maskell
9. Black Water (2007)
What begins as a family vacation in the mangroves of Northern Australia concludes with a crocodile attack and a struggle for survival in Black Water. It was stated in the film's advertising that it was based on actual events, which is partially accurate.
The film is based on a 2003 crocodile attack that occurred in Northern Australia. The film used real crocodile footage (along with some CGI) to create the vicious monsters depicted in the exaggerated story.
Black Water Cast
Jean-Claude Van Damme
Dolph Lundgren
Al Sapienza
Jasmine Waltz
Patrick Kilpatrick
10. The Exorcism of Emily Rose (2005)
Emily Rose's story is loosely inspired by that of Anneliese Michel, a young German woman who underwent an exorcism and later died of malnutrition and dehydration. Following her death, her parents and the priests involved were charged with negligent homicide. This is director Scott Derrickson's first film based on real-life exorcisms.
The Exorcism of Emily Rose Cast
Laura Linney
Tom Wilkinson
Campbell Scott
Jennifer Carpenter
Kenneth Welsh
Mary Beth Hurt
Colm Feore
Henry Czerny
Conclusion
Finally, true-crime horror films tap into our primal fear and add an extra layer of terror. Films such as "Things Heard & Seen," "Winchester," and "The Conjuring" blur the lines between fact and fiction, making them even more unsettling.
While these stories can both entertain and frighten us, it's important to remember that they are ultimately works of fiction. They allow us to confront our fears in a safe setting. So, whether a horror film is based on true events or not, enjoy the thrill of being scared while remaining grounded in reality. After all, the horrors we see on screen are only as real as we allow them to be.
For more information, visit our website to learn about a variety of upcoming and ongoing reality shows. Through our website, you can learn about numerous additional television and web series.