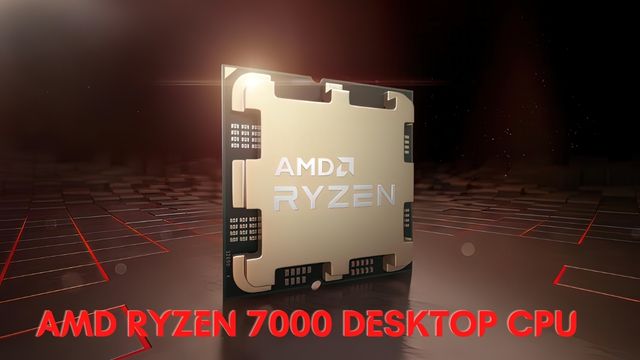 AMD Ryzen 7000 Desktop CPU: Check Out Its Specifications and Release Date!
AMD's meteoric rise in recent years has elevated it to the ranks of the world's premier component producers. Much of the growth has been driven by its Ryzen CPUs, which have proven to be more than capable of competing with Intel.
As a result, the new Ryzen 7000 Series is generating a lot of buzzes, especially now that AMD has officially introduced the first CPUs in the series. They will initially be available solely for desktop PCs, but this will not be the case for long. Everything you need to know is right here.
AMD Ryzen 7000 Series Release Date
AMD confirmed the Ryzen 7000 Series would be available in January 2022 at its CES speech. It even committed to preliminary delivery date – the second half of 2022 – before confirming that the Ryzen 7000 Series would be available in Q3 2022.
That's a little earlier than we'd normally expect for new AMD chips, but it turned out to be correct. The firm formally introduced the first four CPUs in the Ryzen 7000 Series range during an event on August 29 – here's how to watch the event if you missed it. They will all be available for purchase as desktop chips on September 27th.
However, no new CPUs are expected until 2023. According to an earlier official roadmap, laptop processors will be the primary focus. AMD all but confirmed that no new chips will be unveiled until 2023 in a blog post revealing its new CPU naming scheme.
The first of these is due at CES 2023 in January, but look for others throughout the year.
In comparison to the Ryzen 6000 Series, the severe "Dragon Range" category stated above is a new entry. They will be found in high-end gaming laptops released in 2023.
Let's look at some specifications.
Specifications
V-Cache 3D
AMD launched 3D V-Cache to improve gaming performance on Ryzen processors. A method for stacking the L3 cache in three dimensions. AMD was able to add 96MB of L3 cache to the Ryzen 7 5800X3D as a result of this.
That's three times more than the original 5800X and nearly double the 5950X. With the success of this new technique, AMD will almost certainly implement it in Zen 4 processors.
Fortunately, there are reports that 3D V-Cache may appear in a Ryzen 7000 CPU in 2022, just a few months after the initial Ryzen 7000 range is released.
Performance
We still don't have any third-party benchmarks or evaluations of the new Ryzen 7000 processors, but AMD has provided some performance figures.
AMD's 13% IPC boost over Zen 3 demonstrates some major gaming improvements.
With one 8-core Zen 4 and one Zen 3 CPU locked at 4.0 GHz, the Zen 4 CPU outperforms the Zen 3 CPU by 24% in Watch Dogs Legion. Of course, not all games will respond favourably to IPC enhancement. The Zen 4 CPU is only 5% faster than GTA 5 and Fortnite.
We also find some notable gains (over 10%) in workloads such as Prime, V-ray, and Adobe Premiere.
When comparing Ryzen 9 7950X to Ryzen 9 5950X, the new CPU outperforms the older CPU by more than 30% in titles such as Shadow of the Tomb Raider and Dota 2.
Creative workloads benefit as well, with up to 48% improvement in V-Ray and 32% improvement in Corona.
Switching to the AM5 Platform
After more than 5 years of supporting the AM4 platform, AMD transitioned to the brand new AM5 platform with a new LGA1718 socket. So they're going from a PGA socket to an LGA socket.
AMD will continue to support AM5 through 2025+, which is very welcomed. Following AM4, a reduced platform lifespan can be a deal breaker for many consumers.
The fact that the AM5 platform will support AM4 coolers is a significant benefit. The most significant change with AM5 is the support for DDR5 memory.
PCIe 5.0, USB 4.0, Heatspreader, and Other Features
PCIe 5.0 and USB 4.0 will also be new features for the Ryzen 7000 family. PCIe 5.0 will be supported on all AM5 motherboard variants. So, whether you choose an X670 Extreme, X670, or B650, you'll have PCIe 5.0 capability.
However, B650 boards will only include PCIe 5.0 for storage, but X670 boards will also have 5.0 for graphics lanes. The X670 Extreme receives PCIe 5.0 in all ports.
According to reports, the widespread deployment of PCIe 5.0 will enable motherboard manufacturers to include up to 14 20Gbit USB 3.x connections. By comparison, Intel's Alder Lake platform can only support four of them at 20Gbit.
In addition, this new generation of Ryzen CPUs will include a new (and extremely distinctive) heat spreader. Whether this innovative heat spreader is utilised to save money or increase thermal performance.
Memory DDR5
DDR4 opened the way for faster memory with very low latency, but it's time to phase it out in favour of DDR5, which has the potential for faster clock rates, lower power consumption, and lower latency. DDR5 memory at 5200MHz will be supported by Ryzen 7000 processors out of the box, and as DDR5 evolves, so will AM5 support.
It should be noted that Alder Lake technically supports frequencies up to 4800MHz. Unfortunately, this also implies that the far less expensive DDR4 RAM is out of the question. Your old DDR4 sticks will not be compatible with this new platform.
However, DDR5 pricing should stabilise over time, and frequency will grow. Wccftech claims that a 1:1 infinite fabric ratio may be obtained with DDR5 RAM at 6000 MHz, which will be the sweet spot.
Here's a chart created by harukaze5719 that shows the bandwidth and latency when the Ryzen 7000 is paired with a DDR5@6000MHz kit with IMC at 3000MHz.
So, even with 1800MHz FCLK, bandwidth is limited, but latency decreases significantly as the FCLK increases. That's something to think about. Another item to be excited about is AMD EXPO Technique, the new RAM overclocking technology.
With EXPO, customers should be able to securely overclock their RAM modules with a single button push. We believe EXPO is a functionality akin to Intel's XMP profiles.
Leaks
AMD Ryzen 7000 CPUs have been plagued by rumours of overheating. Even the Ryzen 5 7600X, according to reports, can reach 90 degrees Celsius.
With manual tweaks to the VCore, harukaze5719 was able to reduce temps by up to 40 degrees.
As a result, AMD may continue to optimise the BIOS to give the highest performance while remaining cool. That's something to be excited about.
We don't know much about the performance of 3D V-Cache Zen 4 processors, except that AMD may announce them in the first quarter of 2023.
According to Moore's Law Is Dead, Zen 4 V-Cache maybe 30% better than vanilla Zen 4 CPUs.
Must Read: How to Build Own Gaming PC: Step by Step Assembly Check Out!
Final Thoughts on AMD Ryzen 7000 Series CPUs
Intel's 12th-generation Alder Lake CPUs have managed to overtake AMD's current generation of CPUs. The Core i5-12600K has surpassed the Ryzen 5 5600X as the finest CPU on the market right now. AMD's next V-Cache CPU is projected to close the gap, but we believe the Ryzen 7000 series chips will overtake Alder Lake.
The new Ryzen 7000 series CPUs will feature DDR5 and PCIe Gen 5, both of which are now unique to desktop Alder Lake CPUs.