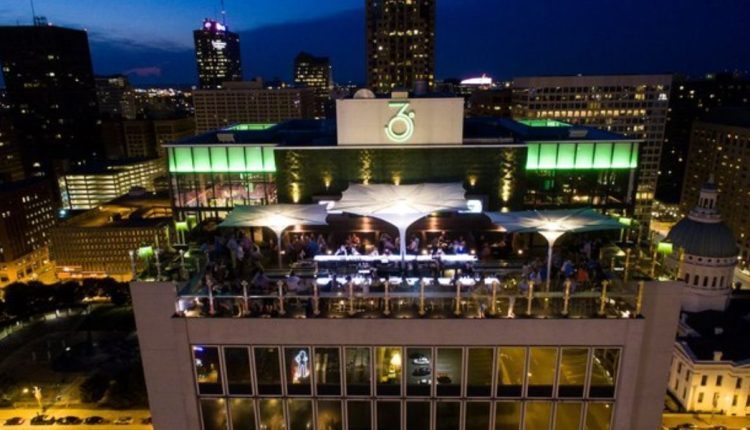 15 Best Rooftop Bars in San Diego: A Paradise With Panoramic Views and Lively Atmospheres
San Diego has a year-round warm climate and calming oceanside vibes, making it an almost ideal rooftop city. But which rooftop bar in San Diego is the best?
This competition guide contains all the information you need about each elevated venue, including opening hours, dress code, photos, maps, and more. From sophisticated rooftop lounges in Gaslamp and Downtown to tranquil terraces in La Jolla and Pacific Beach. Simply scroll down to locate the ideal San Diego rooftop bar for you.
1. The Rooftop Bar at Mission Pacific
The Rooftop Bar, located on the sixth floor of the Mission Pacific Hotel on Oceanside's beachfront, offers expansive views and breathtaking sunsets. Enjoy lounge seating, a lively pool deck, bottle service, craft cocktails, and small plates inspired by the Mediterranean.
As you sip a cocktail and admire the coastline of Oceanside, enjoy the sounds of live DJs and lively music. This rooftop clubhouse is open 24 hours a day and offers unlimited possibilities.
2. Topside Terrace Kitchen & Bar
Located on the third floor of the Hotel Republic San Diego, this expansive terrace is not on the roof. This rooftop bar in downtown San Diego is a great place to enjoy happy hour, light fare, and weekend brunch while taking in breathtaking views of the city's skyscrapers.
Topside Terrace is a chic outdoor space that is open to the public every day. It is outfitted with lounge furniture, fireplaces, and cabanas. The rooftop bar and restaurant have a laid-back atmosphere, making it perfect for a leisurely brunch or a cocktail before dinner.
3. Upper East Bar
On the fourth floor of the Gaslamp Quarter's Kimpton Solamar Hotel are a poolside lounge and a hip rooftop bar. This large rooftop terrace is now one of San Diego's more fashionable spots, with the intention of being a VIP destination in the friendliest and most accessible way possible.
A beautiful rooftop pool with chic lounge furniture, cozy fire pits, exclusive cabanas, and daily access. Spend the day relaxing or checking out the signature cocktails, bites, and outdoor games at Jsix, located on the ground floor.
4. Rustic Root
Rustic Root is a busy and friendly rooftop bar and restaurant in the Gaslamp Quarter of San Diego. In this two-story building on Fifth Avenue, you can order food and drinks that are based on tradition but have a modern, creative twist and are made with high-quality ingredients.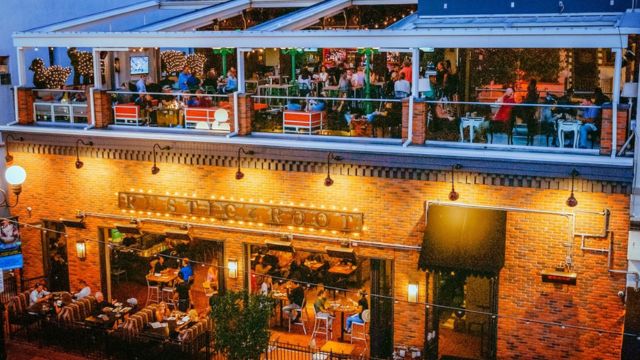 Either inside or on the rooftop terrace, which is both modern and fun. Get together with your friends for happy hour drinks, late-night music, or a weekend brunch.
5. Garibaldi
Garibaldi, located on the San Diego waterfront at the InterContinental San Diego, has a Mediterranean atmosphere and breathtaking views of San Diego Bay. The speakeasy-style rooftop bar and restaurant serves both Italian-inspired food and beverages.
From handmade pasta and local seafood to handcrafted cocktails, Italian beer, and regional wines. The rooftop is open most evenings for dinner and drinks and on weekends during the spring and summer months for brunch.
6. Altitude Sky Lounge
Altitude is a stunning San Diego rooftop bar that, due to its double-terrace design, offers one of the city's most breathtaking views. From one terrace, you can view stunning sunsets over the ocean and Coronado Island, as well as the Petco Park stadium, while from the smaller terrace on the opposite side, you can enjoy breathtaking views of the city.
Decorated with lounge sofas, cozy fire pits, and bar stool seating in the front row, the rooftop has a lively, sophisticated atmosphere, ideal for after-work fun, weekend vibes, or simply relaxing.
7. Lumi Rooftop
Lumi Rooftop offers a restaurant and bar experience that is artistic, energetic and elevated in the heart of downtown San Diego. The expansive venue combines covered dining tables and outdoor lounge seating with vibrant murals, fire pits, and neon pink lighting.
In this opulent setting, Michelin-starred chef Akira Back's inventive Japanese cuisine is served alongside a variety of Japanese-inspired cocktails and an extensive selection of sake. Come for a stylish dinner and drinks after work, as well as for incredibly lively weekends.
8. Level 9 Rooftop Bar
A classic and lovely lounge located on the 9th floor of the Hotel Indigo in downtown San Diego's Gaslamp Quarter. The stylish terrace offers a breathtaking panorama of the city skyline and PETCO Park baseball stadium.
The rooftop wooden deck is open-air and very charming, with a combination of classic lounge sofas and bar stools, cozy fire pits, and a cool outdoor bar. Here you can order inventive signature cocktails, exciting craft beers, and delectable bar snacks.
9. Seneca Trattoria
Floating high above San Diego, Seneca Trattoria invites guests to experience a genuine Roman vacation with panoramic views of San Diego Bay. Elegant, timeless, and verdant, the indoor-outdoor rooftop aims to combine the dogmatic approach of Roman cuisine with the incredible abundance of local ingredients.
This entails serving classic Roman dishes with a modern twist for lunch and dinner, accompanied by handcrafted cocktails, local beer, and an extensive wine list.
10. Cannonball
The largest oceanfront rooftop in San Diego and a fantastic venue, especially if you enjoy delicious sushi and panoramic ocean views. Even though the rooftop terrace is only two stories high, it offers one of the best ocean views in all of San Diego.
Spacious and contemporary, the Cannonball rooftop features a variety of seating options, from traditional dining tables to cozy lounge areas with fire pits. This rooftop feels almost like a beach club due to its laid-back, enjoyable atmosphere, and local live bands perform there on occasion.
11. The Nolen Rooftop Bar
Modern and hip, The Nolen rooftop bar offers breathtaking views of the city, from the Coronado Bridge to Point Loma. The Nolen, located on the fourteenth floor of downtown San Diego's Gaslamp Quarter, specializes in exquisitely crafted cocktails.
A true cocktail lover's paradise, with offerings ranging from timeless classics to Nolen Originals.
This is the ideal place for a fun night out with a group of friends, as it features a variety of delectable bar snacks, a stunning interior, and a sophisticated and upscale lounge atmosphere.
12. Float
This expansive rooftop bar is located on the fourth floor of the Hard Rock Hotel San Diego and overlooks the Gaslamp Quarter. The terrace features a fashionable rooftop pool, private cabanas, and a lounge area with comfortable sofas and fireplaces.
You can lounge poolside or rent private cabanas for a rooftop swimming at this stylish oasis. During the summer Saturday 'Liquid Sunshine' pool party, there are live DJs and a trendy crowd, as well as a more upbeat atmosphere with live DJs in the evening.
13. Ocean Beach Brewery
The vibrant Ocean Beach Brewery resides in a three-story building on Newport Avenue, with the rooftop deck on the third floor being the true gem. The charming and rustic terrace provides spectacular panoramic views of the ocean, Ocean Beach Pier, and the surrounding community.
While sampling one of the distinctive OB beers is almost a requirement, the menu also features a large selection of wine and cocktails, as well as tasty pub-style food. If you want to spend quality time with your loved ones, going to some of the best family-friendly California beach resorts is a wonderful way to do so while enjoying the stunning beaches and numerous family-friendly activities.
14. Fairweather
The intimate and laid-back Fairweather rooftop bar, located near Petco Park, is somewhat of a hidden gem. The rooftop terrace, decorated in a Mediterranean style, is a great and relaxing place to enjoy the warm San Diego climate and breathtaking views of the stadium and the Park at the Park.
The rooftop bar serves handcrafted, one-of-a-kind cocktails and gastropub-style food. A premier location for pre- or post-game cocktails, as well as any time of day for fine vibes, cocktails, and views.
15. Kettner Exchange
Kettner Exchange is a trendy and stylish rooftop bar and restaurant located in the Little Italy neighborhood of downtown San Diego. There are two levels of outdoor and indoor drinking and dining, but the views are not panoramic.
However, the location near the airport makes it possible to see airplanes flying over the terrace, which is cool. Perhaps not a reason to visit, but the extensive menu of new American dishes and cocktail list of hand-crafted and inventive concoctions certainly are. In addition to being attractive and fashionable, the subject is also amusing and friendly.
Conclusion
There are numerous rooftop bars with breathtaking views and lively atmospheres in San Diego. There is something for everyone, from the breathtaking sunsets at The Rooftop Bar at Mission Pacific to the chic outdoor space of Topside Terrace Kitchen & Bar.
These rooftop bars offer either a sophisticated lounge experience or a relaxed ambiance. These elevated venues, with their delectable cocktails, delectable cuisine, and panoramic city views, are the ideal way to enjoy San Diego's warm climate and ocean vibes. Therefore, grab a drink, unwind, and take in the splendor of this rooftop paradise.
Please share your thoughts on this article. By doing this, we can make our posts better. Visit our website for additional details.