10 Best Kristin Hannah Books: Amazing Love, Friendship, and Resilience Stories
Kristin Hannah writes amazing books about friendship and family that make you feel a lot of different things. With more than 20 books, it might be hard to know where to start, so here is a list of the best Kristin Hannah books based on data from hundreds of thousands of readers on Goodreads.
In this article, we'll look at Kristin Hannah's best books, focusing on the ones that have touched readers deeply and made an impression that will last. Each book has its own emotional power and depth, from heartbreaking stories about sacrifice and redemption to stories about friendship, sisterhood, and the ties that bind us all together.
Join us as we go on a literary journey through Kristin Hannah's amazing body of work, which is made up of stories with compelling plots, emotions that hit close to home, and themes that will never go out of style.
Who is Kristin Hannah?
Kristin Hannah was a lawyer before she became an award-winning and best-selling author. When her mother was ill and in the hospital, she first picked up a pen to write fiction as a law student. They collaborated on a romance novel, which was never published.
Hannah went on to become a lawyer before picking up the pen again and never looking back. That is also not a figurative use of the phrase. Hannah writes her books entirely by hand with a pen and paper.
She prefers to write near the sea, where she can hear the waves crashing, and most of her books take about a year to complete. There are exceptions to this rule, such as The Nightingale, which took two years.
Many of her books, including The Nightingale, are currently being adapted or have already been adapted, including Firefly Lane. Her writing is much more character-driven than plot-driven, resulting in incredibly moving novels to which readers can become attached.
Hannah, as previously stated, has written over 20 novels. If you want to learn more about all of Kristin Hannah's books, you can read this article about all of Kristin Hannah's books in order.
Hannah currently resides in the Pacific Northwest, where she is working on her next novel.
Best Kristin Hannah Books
Now, let's look at the best Kristin Hannah books that you should definitely read. This list ranks which of Kristin Hannah's books readers think are the best, based on what they say on Goodreads. The list is also set up so that the very best Kristin Hannah book is at the end.
 1. The Great Alone
The Great Alone, which was published in 2018, is the second-best Kristin Hannah book. On Goodreads, it has nearly 543,000 ratings, with an average score of 4.37.
Ernt Allbright, who was a prisoner of war in Vietnam, comes back from the war a changed and dangerous man. When he loses another job, he decides on the spot to move his family to Alaska, where they will live off the grid in the last true frontier of the United States.
Leni, a 13-year-old girl who is growing up in a turbulent time and is caught in the riptide of her parents' passionate and stormy relationship, dares to hope that a new land will give her family a better future. She wants so badly to belong somewhere. Cora, her mother, will do anything for the man she loves, even if it means going into the unknown to be with him.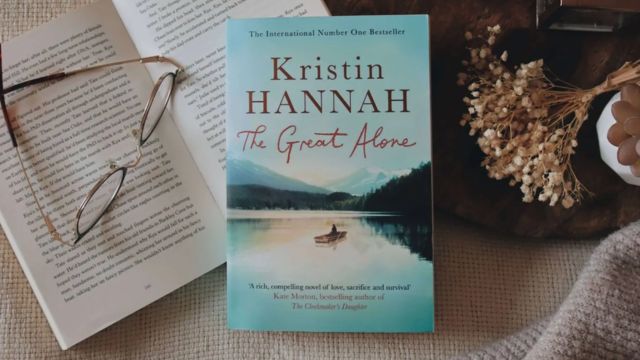 At first, Alaska seems like the perfect place for them. In a wild, remote part of the state, they find a community of strong men and even stronger women who are fiercely independent. Even though the Allbrights were not ready and were running out of money, the long, sunny days and the kindness of the locals made up for it.
But as winter comes and it gets darker, Ernt's already fragile mental health gets worse, and the family starts to fall apart. In their small cabin, where it has been dark for eighteen hours, Leni and her mother find out the terrible truth: they are alone. In the wild, they have to save themselves because no one else can.
It is an unforgettable picture of how weak and strong people can be. Kristin Hannah shows the toughness of the modern American pioneer and the spirit of an Alaska that is disappearing. The Great Alone is a brave and beautiful story about love and loss, the struggle to stay alive, and the wildness that both people and nature have.
2. The Four Winds
The Four Winds in 2021, which is her most recent book, comes in at number three on this list. It has almost 410 thousand ratings on Goodreads, with an average of 4.31.
Texas, 1934: Millions of people are out of work, and the Great Plains are in the middle of a drought. Farmers are fighting to keep their land and ways of making a living as crops fail, water runs out, and dust threatens to cover them all. The Dust Bowl, one of the worst parts of the Great Depression, is back with a vengeance.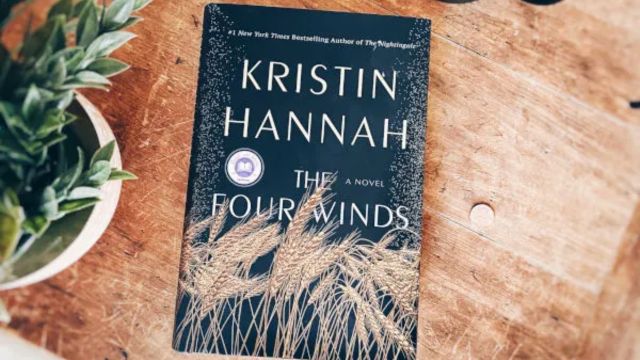 In this uncertain and dangerous time, Elsa Martinelli, like so many of her neighbors, must make a hard decision: fight for the land she loves or go west, to California, in search of a better life. The Four Winds is an unforgettable picture of America and the American Dream, as seen through the eyes of a strong woman whose bravery and sacrifice will come to define a whole generation.
3. Firefly Lane
Kristin Hannah's classic follows. Firefly Lane has over 307,000 ratings on Goodreads, averaging 4.13.
Summer 1974 begins it. Kate Mularkey accepts her eighth-grade social status. The "coolest girl in the world" moves across the street and wants to be her friend. Tully Hart has beauty, brains, and ambition.
Kate, doomed to be uncool, has a loving family that embarrasses her. Tully, glamorous and secretive, is destroying herself. By summer's end, they're inseparable.
Tully is desperate to prove herself from the start. She craves unconditional love after her mother abandoned her. She will follow her blind ambition to New York and the world, finding fame, success, and loneliness. Kate realizes her life will be ordinary early on. She pretends to want success in college, but she just wants to fall in love, have kids, and live a normal life. Kate drives quietly like Tully.
She doesn't know how her dreams will change her. how she'll forget herself and her goals. How she'll envy her famous best friend…
Tully and Kate have weathered friendship storms for 30 years. They think they've survived until one betrayal breaks them.The ultimate test of their friendship.
4. Winter Garden
Winter Garden rounds out the top five Kristin Hannah books with nearly 194,000 ratings and a 4.23 Goodreads average. It is a powerful, heartbreaking novel about the mother-daughter bond and the present-past connection.
Meredith and Nina Whitson are unlike sisters. One raised her children and ran the family apple orchard, while the other became a famous photojournalist.
Meredith and Nina reunite with their cold, disapproving mother, Anya, when their father falls ill. Anya told the girls Russian fairy tales at night, their only connection as children. Their father asks the women in his life to tell the fairy tale one last time and to the end on his deathbed.
Thus begins a surprising journey into Anya's life in war-torn Leningrad over five decades ago. Meredith and Nina will finally hear their mother's harrowing story, which will rock their family and change who they are.
5. Night Road
Night Road is the next best Kristin Hannah book. With nearly 130,000 Goodreads ratings, it averages 4.21. Jude Farraday, a happily married stay-at-home mom, puts others before herself. Her twins, Mia and Zach, are bright and happy teens. Jude supports Lexi Baill.
Lexi quickly becomes Mia's best friend. Zach falls for Lexi and they become inseparable. But senior year of high school brings unexpected dangers, and one night, Jude's worst fears are confirmed: an accident.
Her idyllic life and close-knit community are destroyed instantly. People—and Jude—demand justice, and Lexi Baill, 18, is solely responsible. Their love and family will be shattered instantly. Lexi loses everything—the boy she loves, her family, her best friend—while Jude loses even more.
Lexi returns wiser and demands a reckoning. Jude will face her new self as long-buried feelings surface. She must choose to forgive Lexi and herself or stay broken. Night Road is an emotionally charged novel about motherhood, loss, identity, and forgiveness. It is a beautiful, heartbreaking novel that speaks to women about what matters most.
6. Fly Away
Our next Kristin Hannah book is heavily spoiled. Fly Away, the second book in the Firefly Lane series contains spoilers for the first book. Fly Away has over 92,000 Goodreads ratings, averaging 3.98.
Tully Hart has always been larger than life, driven by her painful past and big dreams. She believes she can overcome anything until her best friend Kate Ryan dies. Tully tries to keep her deathbed promise to Kate to be there for her children, but she knows nothing about family, motherhood, or caring for others.
Her mother's death devastates 16-year-old Marah Ryan. Johnny, her father, keeps the family together. Despite his efforts, Marah becomes unreachable in her grief. She seems uninterested in anything…until she falls in love with a young man who makes her smile again and leads her into his dangerous, shadowy world.
Dorothy Hart, formerly Cloud, is Tully's tragic past. She repeatedly abandoned her daughter, Tully, as a child, but now she returns to her side when Tully is most alone. Dorothy must confront her darkest fear to become the mother her daughter needs.
A tragic choice and a late-night phone call will bring these women together on a powerful redemption journey. Each is lost and needs each other—and maybe a miracle—to change.
7. Magic Hour
Magic Hour, published in 2006, has nearly 87,000 Goodreads ratings with a 4.15 average.
Dr. Julia Cates was a leading child psychiatrist until a shocking tragedy ended her career. Julia meets a mysterious six-year-old girl in her western Washington hometown. A child in unimaginable fear and isolation.
Julia prioritizes saving Alice. Julia will need help from her barely known sister and a handsome doctor with secrets. Julia must find a home for Alice and herself, testing her faith and strength.
8. Home Front
Home Front's Goodreads rating is 4.17 from over 83,000 ratings. Every marriage, family, and war has a breaking point.
Even as their twelve-year marriage is falling apart, Michael and Jolene Zarkades must deal with daily life—children, careers, bills, chores—like many couples. After Jolene's deployment, Michael is left to raise their two daughters alone.
It's hard for Jolene to leave her family. She understood duty as a soldier. In her letters home, she hides the truth from her family. But war will change Jolene in ways they couldn't predict. When tragedy strikes, Michael must face his darkest fear and fight for his family.
Home Front is a story of love, loss, heroism, honor, and hope that takes an honest look at modern marriage and a dramatic look at how war affects an ordinary American family.
9. Summer Island
Kristin Hannah's 2001 novel Summer Island has over 50,000 ratings and a 3.98 average. Nora Bridge divorced and left her daughters years ago. Talk show host. Her daughter Ruby is a struggling comedian. They haven't spoken in over a decade.
After Nora's scandal is revealed, Ruby is offered a fortune to write about her mother.
She reluctantly returns to Summer Island, where she has fond and painful memories. Ruby finally understands the complex bonds between a mother and daughter—and the healing that comes with forgiveness—after confronting a never-forgotten love, a sick best friend, and a mother who has kept terrible family secrets.
10. The Nightingale
Finally, the top Kristin Hannah book on Goodreads has nearly one million ratings. The Nightingale, a historical novel set in 1939 France, has over 953,000 ratings and a 4.59 average.
Vianne Mauriac bids her husband, Antoine, farewell in Carriveau. She doubts Nazis will invade France. but invade they do, in droves of marching soldiers, caravans of trucks and tanks, and planes that bomb the innocent.
When a German captain seizes Vianne's home, she and her daughter must live with the enemy or lose everything. She must make impossible choices to save her family as danger rises.
Isabelle, Vianne's rebellious eighteen-year-old sister, searches for purpose with reckless passion. She meets Gaëtan, a partisan who believes the French can fight the Nazis from within France, and falls in love as only the young can.
Isabelle joins the Resistance after he betrays her, risking her life to save others.
The Nightingale is a heartbreakingly beautiful novel about two sisters, separated by years and experience, by ideals, passion, and circumstance, each on her own dangerous path toward survival, love, and freedom in German-occupied, war-torn France. It celebrates the resilience of the human spirit and the strength of women.