When Will Netflix's Bird Box Barcelona Come Out? Is It Based on a Real Story?
Bird Box, a post-apocalyptic horror film, premiered on Netflix in December 2018. The film's compelling story and intriguingly fresh premise helped it gain instant popularity online and win over many new devotees.
At the beginning of Bird Box, there is a worldwide epidemic of mysterious suicides, most of which occur in the United States, Europe, and Asia. As society crumbles around the world, the root of the problem is exposed. Invading our planet to wreak havoc are mysterious and demonic creatures, and the few survivors know that just catching a glimpse of one can send them mad.
So they blindfold themselves, board up all the windows, and try to make it through this grim new normal. A Bird Box sequel series, described as "many localized movies, which […] tie together into one overarching shared universe," was announced for March 2021. The first of these sequels, titled Bird Box Barcelona, will reportedly follow a father and his young daughter as they try to make it through a dystopian future. It will premiere this summer.
If you want to know everything about Bird Box Barcelona, then keep reading.
When Will Bird Box Barcelona Come Out?
The Netflix film Bird Box Barcelona premieres worldwide on July 14. Those in the mood for a good fright in the middle of summer need look no further.
What is Bird Box Barcelona About?
The events of Bird Box Barcelona take place in a Barcelona of an alternate timeline. In the film, we observe Sebastian and Anna, his young daughter, as they try to get around their desolate city. Sebastian and Anna form an uneasy alliance with a group of fellow survivors while evading the creatures responsible for the rapid decline in the global population.
Curiously, the Netflix blog Tudum's official announcement states that the father and daughter must confront an "even more sinister" threat than the creatures that can cause a human to commit suicide. Whether or not this danger is connected to the "uneasy" alliance between the survivors raises the question of how Sebastian and Anna will get away.
According to Netflix's official plot summary:
From the producers of the global phenomenon, Bird Box, comes BIRD BOX BARCELONA, an expansion of the film that riveted audiences in 2018. After a mysterious force decimates the world's population, Sebastian must navigate his own survival journey through the desolate streets of Barcelona. As he forms uneasy alliances with other survivors and they try to escape the city, an unexpected and even more sinister threat grows.
Who's the Cast Member of Bird Box Barcelona?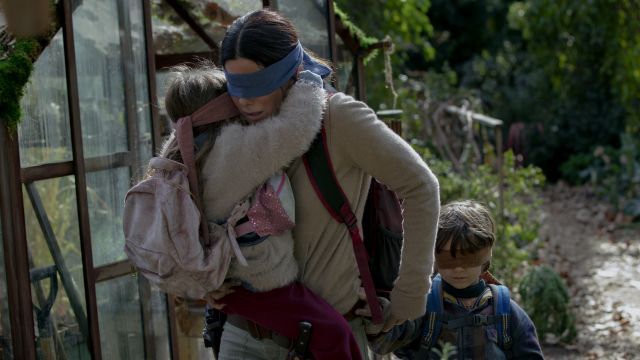 Sebastian is played by Mario Casas (Three Steps Above Heaven), and his daughter Anna is played by Alejandra Howard (The Wasteland). Georgina Campbell (Barbarian), Diego Calva (Babylon), Michelle Jenner (Isabel), Leonardo Sbaraglia (Pain and Glory), Lola Duenas (The Sea Inside), Patrick Criado (Riot Police), and Gonzalo de Castro (Doctor Mateo) will also be in the show in different roles.
Bird Box Barcelona Trailer
We don't have a full trailer for Bird Box Barcelona yet, but we do have a chilling teaser that shows you a lot about what the scary new movie has in store. Take a look below
How to Watch Bird Box Barcelona?
You'll need a Netflix account in order to watch Bird Box Barcelona, as it is an original Netflix production. There is a wide variety of subscription packages to choose from.
When and Where Was the Filming of Bird Box Barcelona?
The March 2021 announcement for Bird Box Barcelona was followed by the October 2021 announcement of its cast. The movie was shot in and around Barcelona, Spain, starting in the early part of 2022.
Is Bird Box a True Story?
In 2013, a train derailed in Lac-Mégantic, Quebec, killing 47 people. The movie starring Sandra Bullock used real footage from that event to show the world falling apart. According to the BBC, Netflix confirmed that it used the footage, but the site said it would not take it down.
Conclusion
Bird Box is a post-apocalyptic horror film that premiered on Netflix in December 2018. It follows a father and his young daughter as they try to make it through a dystopian future. The sequel, Bird Box Barcelona, premieres on July 14. Bird Box Barcelona is an expansion of Bird Box, featuring Sebastian, Anna, Georgina Campbell, Diego Calva, Michelle Jenner, Leonardo Sbaraglia, Lola Duenas, Patrick Criado, and Gonzalo de Castro.
For more information Visit our website to find out about a wide range of reality shows that are coming up or already on. You can find out about many other TV shows and online series through our website.