How to See Who Looks at Your Instagram? Explore Here!
Many individuals may see your Instagram profile every day if you are active on the platform. They could be your followers or the general public. If you have set your Instagram account to private, the public will not be able to see your posts. If your Instagram account is not set to private, however, the public will be able to read your posts.
As a result, you may be trying to figure out who they are. You'll know who is stalking you or showing interest in your profile this way. This article will teach you whether you can see who views your Instagram profile, how to see who views your Instagram profile, and much more.
How to See Who Looks at Your Instagram?
To be more specific, there is no easy way for you to see who is seeing your Instagram feed. Instagram does not have an in-built function that allows users to see who has viewed their profile, and there is a very excellent reason for this: user privacy.
Instagram, which is owned by Facebook, has all the data you'd need to see who saw your profile, but it won't share it with you since doing so could result in a major decline in user engagement on the network.
Why you might ask? Because a considerable amount of Instagram users spend their time checking other people's profiles rather than uploading anything on their own, if Instagram exposes data on their behavior, there's a very good probability that they'll stop using the program, which is obviously terrible for business.
Even if these individuals do not interact with other Instagram users, they nevertheless consume the same number of advertising as everyone else, and if they are called out for their behavior, they may stop using the platform entirely.
Third-Party Apps for Viewing Who Viewed Your Instagram Profile
Is it possible to utilize a third-party program to discover who viewed your Instagram profile? Yes, there are numerous apps available on both the App Store and the Google Play Store that claim you can see who checks your Instagram account and locate your Insta stalkers by providing them access to your Instagram account. But do they actually work? Certainly not.
One of the iPhone apps that purports to show who has viewed your Instagram profile is SocialView for Instagram. However, if you read the reviews on the app's page, you will discover that it does not operate.
Profile+ is yet another app that claims to show you who has viewed your Instagram profile. However, this app is also inoperable. In fact, it tries to charge you to unlock services like 'who viewed my Instagram profile,' even if they aren't functional. The app just displays a list of blocked users, which you can see on the official Instagram app anyhow.
Instagram Follower Analyzer
Follower Analyzer is another tool that purports to show you who views your Instagram profile while, in reality, it does not.
These apps just appear to work by displaying a list of random Instagram usernames that change every time you open the apps, giving users the impression that they are doing something. More importantly, these apps pose a significant privacy concern because they capture all of your account data as soon as you log in with your Instagram account and grant them access to the data.
Furthermore, utilizing such apps can result in your account being blocked, therefore it's best not to rely on third-party apps to see your Instagram stalkers.
Why Are Third-party Apps Not Working?
The most obvious reason why these apps do not operate is fairly simple. Instagram's data policy states unequivocally that it only shares a user's name, Instagram username and bio, profile photo, and email address with unvetted third-party apps.
Furthermore, Instagram's Graph API, which debuted earlier this year, is even more restrictive than the older Instagram API platform, which means that apps that haven't been certified by Instagram to use the API lose access to it entirely. So, now that third-party apps are no longer an option, how can you find out who has viewed your Instagram profile?
Viewing Who Views Your Instagram Profile Using Instagram Stories/Highlights
Although Instagram does not provide users with the ability to see who is viewing their profiles, it does provide users with the ability to see who has seen their Stories and Highlights. As a result, you can use the tool to see who has recently viewed your profile.
To use this function to show your Instagram stalkers, simply touch on the profile image icons in the bottom left corner of your most recent Instagram Stories. This will display a list of all people who have viewed your story, including those who do not follow you.
This feature also allows you to hide any users with whom you do not wish to share your Stories by hitting on the menu button to the right of the user's name and selecting the 'Hide Story' option, making it simple to block any Instagram stalkers you may have.
Must Read: Causes and Fixes of Disney Plus Error Code 39! Check Now!
Because Instagram Stories expire after 24 hours, you must revisit the list on a daily basis (in case you upload that often). However, if you want a longer-term overview of who's been visiting your Instagram profile, you can look at the same list in your Highlights, which also displays a list of all the users who've visited your profile (provided they played the Highlights).
Using Instagram Business Accounts to See Who Views Your Instagram Profile
By using an Instagram business account, you can also check who has viewed your Instagram profile. Having an Instagram business account will provide you access to critical information on who is viewing your Instagram profile, but there is a price.
With a business account, you'll have access to useful information on the people who visit your profile, such as their location, age range, gender, and the time they're online. However, the insights will not display the names of all the individual users who have viewed your profile.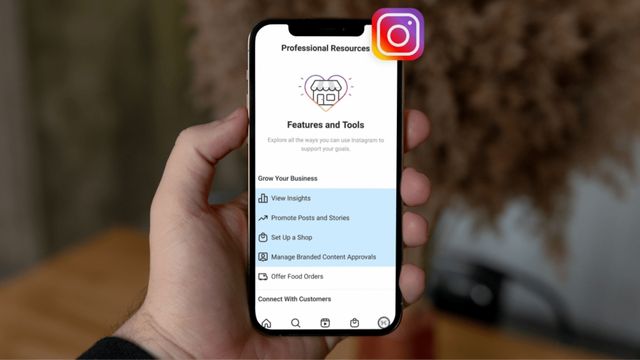 If that's the type of information you're looking for, you can quickly turn your personal Instagram account into a corporate one. To do so, go to Instagram Settings and select the 'Switch to Business Profile' option, then link your Instagram account to a Facebook Page that you manage.
Must Read: How to Tell if Someone Unadded You on Snapchat? Here Are the Tips!
Instagram will then offer you to select which contact information you want to extract from your Facebook profile, as Instagram business accounts need users to have at least one contact information. Your new Instagram business account is now operational. It's worth mentioning that Instagram Insights does not gather previous data and only begins collecting data after the Instagram business account is created.
Conclusion
It's useful to know who has viewed/visited your Instagram profile because you might want to know who your stalkers are. Instagram, unfortunately, does not offer a feature that allows you to see who has viewed your profile. However, you may post a story and check who read it.
You must, however, ensure that your Instagram profile is public. That way, you'll know who saw your story but isn't following you. Your stalkers are folks who frequently view your stories but do not follow you. They are typically found near the bottom of your story's viewers. Alternatively, you can upload a photo or a video and see who liked or viewed it.