What is Rick Harrison's Net Worth?
Rick Harrison is a $9 million net worth American business owner and reality TV star. Rick Harrison is a member of the Harrison family, the owners of the Gold and Silver Pawn Shop in Las Vegas, Nevada. The Harrison family has become well-known as a result of the reality television show "Pawn Stars," which follows the antics and mishaps that occur at the Gold and Silver Pawn Shop.
Early Life
Richard Kevin Harrison was born on March 22, 1965, in Lexington, North Carolina, to Richard Benjamin Harrison Jr. and Joanne Harrison. Richard is the third of three children. He had an older sister Sherry who died when she was six and has an older brother Joseph and a younger brother Chris. His father served in the United States Navy.
Related- What is Lil Baby's Net Worth?
Harrison's father was transferred to San Diego when he was two years old, and the family relocated. Harrison began having epileptic seizures when he was eight years old. Harrison developed a lifelong love of reading as a result of his frequent confinement to bed.
Harrison went to Taft Middle School in San Diego but left during his sophomore year to pursue his "$2,000-a-week business of selling fake Gucci bags." The Harrison family moved to Las Vegas, Nevada, in April 1981.
Career
Harrison's father opened his first secondhand store in Las Vegas after the family moved there in 1981. On Las Vegas Boulevard, the original Gold & Silver Coin Shop was a 300-square-foot hole in the wall. During the day, Harrison worked in his father's store. He repossessed cars at night. The store relocated to a larger location in downtown Las Vegas in 1986. Unfortunately, the Harrisons lost their lease on that space in 1988. The store was then relocated to a new commercial building on Las Vegas Boulevard.
Related- What is Travis Scott's Net Worth & More?
Harrison and his father had discussed turning the coin shop into a pawnshop for years. It appeared to them to be a natural progression of their business. That wasn't easy, however, because a Las Vegas law dating back to 1955 required the issuance of new pawn shop licenses to be limited based on the city's population. By 1988, the greater Las Vegas metropolitan area had a population of over 640,000 people. Every week, Harrison contacted the city's statistician in order to apply for one of the city's rare and coveted pawn licenses as soon as the population of Las Vegas reached the next milestone that made those licenses available.
That happened the following year in 1989 and the Harrisons were granted their pawn license. The same year Harrison and his dad opened the Gold & Silver Pawn Shop not far from the Las Vegas Strip.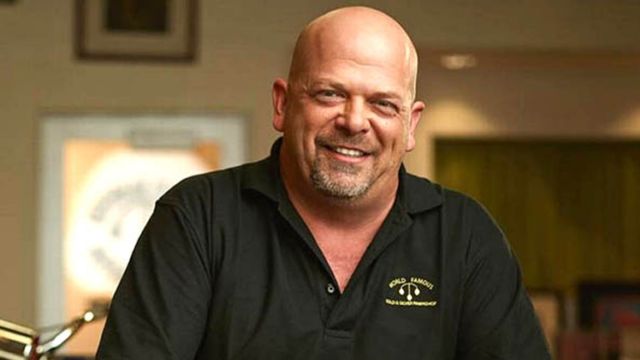 By 2005, Harrison and his father were lending around $3 million per year. The interest on the loans brought in about $700,000 for the Harrisons. By 2006, the pawnshop had established a reputation for selling unique sports memorabilia. It was also a haven for gamblers who needed to pawn something in order to buy gas to drive back to wherever they came from.
Related- What is Chris Rock's Net Worth and Salary?
Harrison spent four years pitching the idea of a pawnshop television show after his store was featured in a PBS documentary in 2001 and on the popular Comedy Central show Insomniac with Dave Attell in 2003. The concept was floated around HBO and YouTube before the History Channel came calling and developed it into Pawn Stars, which is now the History Channel's highest-rated show. Pawn Stars premiered in July 2009 and has lasted 17 seasons and 577 episodes as of June 2020. The History Channel's most popular show, by far, is Pawn Stars.
Today Rick's son Corey Harrison also works in the store and is seen on the show along with childhood best friend Austin "Chumlee" Russell. Rick's nickname on the show is "The Spotter" because of his keen eye for undervalued items.
Personal Life
Harrison's girlfriend Kim became pregnant when he was 17 years old. The couple decided to marry despite a miscarriage. Corey, their first child, was born on April 27, 1983. Adam, their second child, was born two years later. Harrison and Kim divorced soon after Adam was born.

On a blind double date nine months later, Harrison met Tracy, the woman who would become his second wife. After six months of dating, they moved in together, and eight months later, they married and took on the responsibility of raising Corey and Adam. They eventually divorced.
Related- What is Travis Scott's Net Worth & More?
Harrison, who had been divorced twice, announced his engagement to Deanna Burditt, who had also been divorced twice. On July 21, 2013, the couple married in Laguna Beach, California.
Real Estate
Harrison listed his Red Rock Country Club home in Summerlin, Las Vegas, for $3.99 million in 2019. The 8,845-square-foot house was constructed in 2001. He purchased the house in 2016 and spent approximately $600,000 on renovations.
The formal sitting room's flooring is made of $45,000 granite that has been acid-washed, cut into planks, and laid like a hardwood floor. Two bedrooms are on the lower level and two are on the upper level. The house also has a gym, which can also be used as a bedroom. There are seven bathrooms in the house, as well as a 12-seat home theater with a 150-inch screen and a curtain. A wine cellar can hold over 1,000 bottles.
Related- Davido Earnings, Personal Life & More!
The front of the house offers views of Red Rock Canyon's Spring Mountains, while the backyard offers views of the Strip and the Arroyo Golf Club. The upstairs game room has a balcony facing the back of the house. The backyard features a lagoon-style pool and elevated spa, as well as a gate leading to the golf course. The pool is surrounded by a 10-foot waterfall and a lazy river. There is also an outdoor kitchen in the backyard. Harrison chose the neighborhood because their children attended high school nearby, but now that the children are grown, they no longer require the space.
Stay Tuned for Updates!