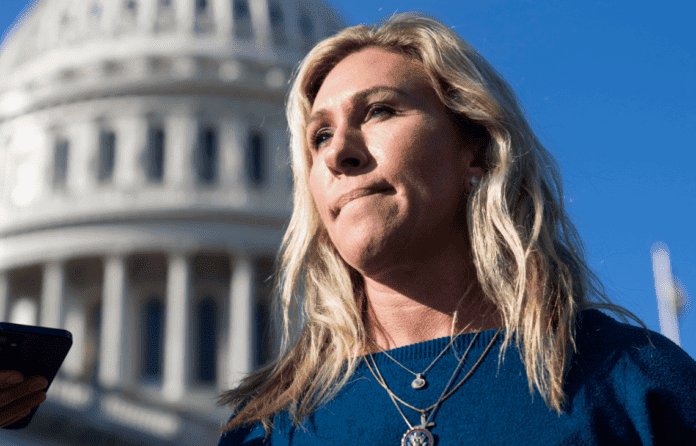 Georgia Republican congresswoman Marjorie Taylor Greene's personal Twitter account has been permanently suspended, for violating policies on Covid-19 misinformation. This repetitive misinformation posting was taken action against Greene on Sunday came under the "strike" system of Twitter which was launched last March where it uses artificial intelligence to identify posts about the coronavirus misleading information dissemination.

As Twitter stated, two or three strikes earn a 12-hour account lock while four strikes result in a weeklong suspension and five or more can get an account permanently removed. Twitter had previously suspended Greene's account for periods ranging from 12 hours to a week. She was issued a "fourth strike" last summer, for saying vaccines were failing.

A Twitter spokeswoman said on Sunday, "We've been clear that we will permanently suspend accounts for repeated violations of the policy," but the congresswoman's official account remains active.
On July, Twitter suspended Greene for a week after Joe Biden prompt tech companies to take stronger action against bogus vaccine claims that the president said were killing people. Twitter has said it has removed thousands of tweets and challenged millions of accounts regarding this matter. On the other hand, Greene has regularly been fined for refusing to follow Covid guidelines in Congress, including mask-wearing on the House floor.

In a statement on the Telegram app on Sunday, she called Twitter "an enemy to America" and said it could not "handle the truth".
Related Topics
Lowry: Latinx Word Is a Hit and Miss Proposition for Identity Politics
Tornadoes in the United States: Kentucky & Recovery Will Take Time, Money, and Stir Up Fractured Politics
Tornadoes in the United States: Kentucky & Recovery Will Take Time, Money, and Stir Up Fractured Politics
Pat Robertson & Influence on American Politics and Television

Greene also accused Twitter of seeking "a communist revolution" and said, "Social media platforms can't stop the truth from being spread far and wide. Big tech can't stop the truth. Communist Democrats can't stop the truth. I stand with the truth and the people. We will overcome." Greene also said that her account was suspended after tweeting statistics from the Vaccine Adverse Event Reporting System, a government database which includes raw data.

Among Greene's final tweets was one that falsely referenced "extremely high amounts of Covid vaccine deaths", conforming to her Telegram account, which mirrors to her now-banned Twitter feed.