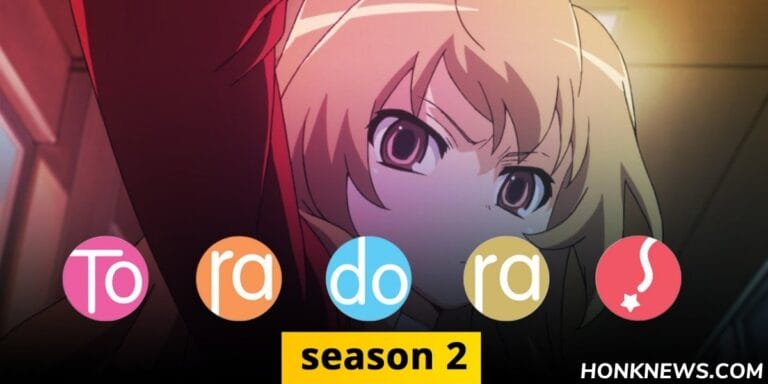 Toradora is an anime TV series and it was announced after the release of ten light novels by Yuyuko Takemiya and it was released between March 10, 2006, and March 10, 2009, and was published by ASCII Media Works. Then, later it was produced by the animation studio J.C.Staff and directed by Tatsuyuki Nagai. It contains 25 episodes that premiered between October 2, 2008, and March 26, 2009, on TV Tokyo in Japan.
Check this article to know about the Release Date, Cast, flashback, expected plot, and review of Toradora Season 2.
Release Date of Toradora Season 2
It has been 13 years and the fans of the Toradora anime are still loyal and waiting for the return of season 2. During the time of broadcast, Toradora earned unexpected love from the audience making it among one of the best anime series for the fans! Not only that it created a fortune for the JC staff animation studio. As everyone was waiting from the start of the series, the studio made a Special OVA episode for their fans in December 2011 and from then until now we haven't seen anything related to Toradora! Sad indeed!!
There is a thing you should all know that a lot of series of animation is produced, just to sell their source materials such as video games or mangas or comics so as to earn revenue and when they think that the revenue is not up to expectations they leave the series as well, but there are a few shows who make their sequels and there are many who are abandoned.
There has been no confirmation for renewal or cancellation yet, which more or less makes us worried about season 2, just like Gakuen Babysitters Season 2. But there might be a movie adaptation or a spin-off series in the future as the fan following of the series is great and Netflix has Re-released the Toradora in 2020, while we were bored in our homes due to the lockdown, most of the old fans saw the series again feeling nostalgic and many of them became new fans of the show, everyone with the same question and that is when will the Toradora Season 2 release?
I am really sorry to be the bearer of this news, but there is no official announcement regarding the renewal of the show, we have to be patient and if our prayers are heard someday then it might release in the end of 2022!!
Toradora (25 Episodes, Dub/Sub) is now on @netflix!https://t.co/7AJhDUrT1g pic.twitter.com/2zlDepAZsS

— Netflix Anime U.S. (@NetflixAnime) August 1, 2020
Cast and characters
Main characters
Ryuji Takasu; Voiced by Junji Majima
Taiga Aisaka; Voiced by Rie Kugimiya
Minori Kushieda; Voiced by Yui Horie
Yusaku Kitamura; Voiced by Hirofumi Nojima
Ami Kawashima; Voiced By Eri Kitamura
Supporting characters
Inko; Voiced by Saori Gotō
Yasuko Takasu; Voiced by Sayaka Ōhara
Yuri Koigakubo; Voiced by Rie Tanaka
Kōji Haruta; Voiced by Hiroyuki Yoshino
Hisamitsu Noto; Voiced by Kazuyuki Okitsu
Maya Kihara; Voiced by Ai Nonaka
Nanako Kashii; Voiced by Momoko Ishikawa
Sumire Kano; Voiced by: Yūko Kaida
Kōta Tomiie; Voiced by Nobuhiko Okamoto
Has the trailer for season 2 arrived?
Unfortunately, I have to say that the trailer for season 2 of Toradora hasn't arrived yet as there is no information on cancellation or renewal of the show until now and even if it gets announced it will take a while to release a trailer, but don't worry we will keep you updated, just stay till the end and visit for further updates as well and if you haven't watched the season 1 yet then check this trailer out and start to watch it now!!
So let me give you guys a Flashback of Toradora Season 1
Do you all remember the second year of high school?
How hard we used to try to look good, the same is the condition of Ryuji Takasu, he has a good personality but his eyes are alike criminals, making him worried. Ryuji Takasu feels lucky to be in the same class with his best friend Yusaku Kitamura and his crush Minori Kushieda. Like every other crush, Minori also has a dangerous best friend called Taiga Aisaka, who dislikes Ryuji instantly and probably she is like Strike Witches Season 3 girls and we then get to know that she lives in the opposite apartment of Ryuji and she has a crush on Ryugi's best friend Yusaku Kitamura, so now they come to a deal to make each other's best friend understand the love and set them up!
Then we see how after all the attempts to set things up they are unsuccessful and meanwhile spend a lot time with each other making classmates suspect that, Ryuji and Taiga are in a relationship, and why wouldn't they think? They do enjoy each other's company a lot, like sharing food and coming to school together and much more.
After a while, we see the entry of Ami Kawashima who is known to be a popular model and is a childhood friend of Yusaku, joins the school. She acts as if she were a good girl but behind her act is a mean and rich spoiled girl. Taiga and Ami don't get along due to their nature, but Yusaku wants them to! Meanwhile, the childhood friend Ami starts having feelings for Ryugi, which gets a little complicated and the entire series then is about the lives of these people and how the love starts growing among them!!
Toradora Season 2 Plot
As I have mentioned above that how Ryugi and Taiga try to help each other in setting them up with their best friends, but all the plans backfire or go null and how eventually they get closer to each other and make a bond. After a while we saw how Ami gets transferred to this school and later gets feelings for Ryugi and how things work out later, this is not a great ending, right?
It has been years now but there is one thing which the fans didn't get along with is the ending, they are sharing out the facts that the ending of the novels and PSP game version of the show was far better than the ending of the show as they got what they expected from the show and that is the love story of Ryugi and Taiga and we as fans expect the love story to be telecasted in the next season. It will be a whole lot better if they plot the story of Ryugi and Taiga after marriage, just like the game we would like to see that Taiga gives birth to three twins with Ryugi and live a happy life!! This is called Happy ending right?
Unfortunately, this is just our expectations and predictions but I hope it is used by the writers and producers of the show in Toradora season 2!!
Review of Toradora
I don't even know how to review the beautiful series in just a few lines, but I have to right?
So I started watching this series in the lockdown when I was super bored and I was really happy that I did! This show was everything that I required at that moment, starting from romance to comedy and friendship, what else could I ask for?
The storyline was perfect and the characters were so well placed, making us binge-watch the show and fall in love with it. The story was a little long but interestingly easy to understand and feel, so I would highly recommend you all to watch the show on Netflix and let me know in the comments section about how was your experience!!