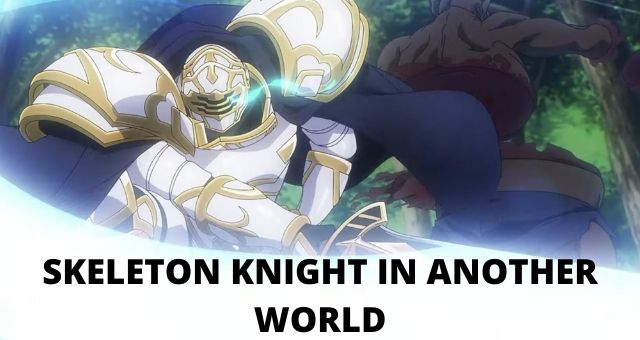 Skeleton Knight in Another World: an Isekai of Games Filled With Adventures!
'Gaikotsu Kishi-sama, Tadaima Isekai e Odekakechuu,' or 'Skeleton Knight in Another World,' is a fantasy isekai Japanese light novel series authored by Ennki Hakari and illustrated by KeG. This series depicts an ordinary gamer who one day awakens inside the avatar body of an online video game he is playing.
Originally startled by the skeletal look, the protagonist, armed with one of the most powerful weapons and armor, continues to investigate the virtual environment, only then to encounter Ariane Glenys Lalatoya, a dark elf.
It's the start of his adventures in the parallel universe, which have sparked a massive fan base since the novel's online serialization in October 2014.
The anime version of Ennki Hakari's light novel series Skeleton Knight in Another World premiered during the Spring 2022 anime season. Several fans of the Isekai and Shonen genres adore the anime.
So, here's all we know about the anime so far.
Skeleton Knight in Another World: When Did the Anime Premiered?
The anime adaptation of the Skeleton Knight in Another World, the authorized TV anime Twitter account announced the anime on April 17, 2021.
Also Read:
Attack on Titan: the Final Season Part 3: the Third Part Is Finally Coming With Lot of Answers!
Extreme Hearts: What We Know So Far About the New Sports Anime?
Skeleton Knight in Another World premiered as part of Anime's Spring Seasonal Chart on April 7, 2022, at 11:30 p.m. It aired on AT-X, Tokyo MX, SUN, and BS11 television stations.
Crunchyroll is streaming stream the animation for international viewers. We expect Crunchyroll to broadcast Skeleton Knight in Another World episodes an hour following the telecast in Japan as a way of their simulcast service.
As of now, the anime is out with 8 episodes, and for all the anime lovers waiting for Arc's adventures, the 9th episode is coming on 2 June 2022
Skeleton Knight in Another World: What Is the Anime About?
Arc, a typical gamer with an unhealthy lifestyle, wakes up one morning to find his reflections in the stream. He knows right away that the armored skeleton he first saw is indeed a videogame character that he had designed personally.
The protagonist gradually learns the seriousness of the scenario and discovers he has been transferred into the gaming world. Without any other choice, he begins searching for the locals in the hopes of discovering certain answers, only to come upon a band of bandits attempting to assault two women.
Arc rushes to their aid and put down every nasty man in their path. The two women Lauren, a noblewoman, and Rita Farren, her maid, introduced themselves. The knight, presenting himself as Arc, decides to accompany the two ladies to Rubierute.
Rita provides him a copper passport to permit him simpler entry through any town in the territory, despite his refusal of a prize. To avoid upsetting Lauren's father, Buckle, which would cause complications if the noble asked in seeing his skeleton face.
This gamer now begins to investigate the odd environment he has entered in the hopes of resuming his previous existence.
Understanding that appearing as a skeleton would indeed be frightening to others, he resolves to wear his helmet at all times and reclaims himself by the name of Arc. He sees one female elf in the first city that comes across, but she vanishes.
He tries on becoming an explorer because he has zero finances, but he must first obtain his license by killing three opponents. He kills a boar as well as an orc in the jungle, and while on the lookout for a third foe, he discovers bandits assaulting a coach. He considers getting more involved until he notices two young females in danger.
When the two women, he saved were being escorted to town, Arc steals all of the robbers' belongings. He gets his license and earned his first feast using the robbers' money after killing over 20 bandits. He decided to have fun starting his fresh life, even though he might be imprisoned in this new place for the rest of his life.
Arc might encounter several new characters in the forthcoming episode 9 as he continues his adventures. Making new friends, battling various mystical creatures, assassination organizations, and dangerous wildlife, thus there's a lot more to the story coming in the upcoming episodes, so let's simply wait.
Skeleton Knight in Another World: Who Will Be Seen in the Game World?
This anime is full of fantastic personalities who are both powerful and fascinating. At the start, the protagonist Arc, played by Tomoaki Maeno, was playing a video game when he discovered that he had been transferred to a different world inside the form of the player character. Then there's Ariane Glenys Maple who is voiced by Fairouz Ai, who Arc meets during the first segment of the anime, considerably earlier than it is in the light book. She is one of the most dangerous Dark Elves.
Ponta, performed by Nene Hieda, is the third main character. Arc encounters Ponta, who can use wind magic for the first time in the anime while assisting Marca throughout the second episode, although she is featured far later inside the light novel's first volume.
Also Read:
Zombie Zoo: an Anime Is Based on a 9-year-old Boy Art Collection!
Bubble Anime: What Does the New Anime Bring to the Sci-Fi genre?
Then there's Chiyome, played by Miyu Tomita. Arc and Ariane are accompanied by her, who is a ninja. She's a beast person with cat ears and has a special power among the Six Ninja.
Then there are characters like Danka, spoken by Takuya Eguchi, Dillan, voiced by Kohsuke Toriumi, Glenys, voiced by Yuko Minaguchi, and Eevin, who is voiced by Rumi Okubo.
Who Are Involved in Production?
Skeleton Knight in Another World is a fantastic anime produced by a talented team of creators. Takeshi Kikuchi supervises the series' screenplays, whereas Tōru Imanishi designs the characters of the anime. Eba and Tsubasa Ito composed the series' soundtrack.
The series is directed by Katsumi Ono and the animation is done by Studio Kai as well as Hornets. PelleK's "Aa, Waga Roman no Michi Yo" serves as the opening theme song, while "Bokura ga Oroka da Nante Dare ga Itta" serves as the closing theme song.
From outside of Asia, Crunchyroll has acquired the rights to the anime. The license in South and Southeast Asia was obtained by Muse Communication a day after the anime was launched. Crunchyroll confirmed on April 11, 2022, that the anime will get an English dub, that would premiere on April 28.
Trailer!
Let's enjoy the trailer of this peculiar world filled with skeletons and elves.