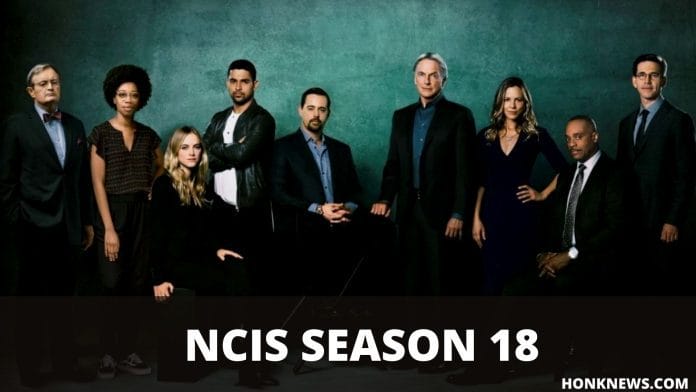 CBS released the eighteenth season of its American police drama NCIS in the first half of 2021. The show is set in a hypothetical setting of a few special agents from the Naval Criminal Investigative Service. It involves them solving intense criminal cases from time to time.
| Black Friday Deals Today | Buy Link |
| --- | --- |
| Today Deals | |
| Laptops | |
| Computer & Tablets | |
| Tv Deals | |
| Gaming Accessories | |
| Fashion Deals | |
| Smart Home | |
| Beauty & Personal | |
| Smart Household & Kitchen | |

Release date: The eighteenth season first aired on 17 November 2020 till 25 May 2021. 
Number of episodes: Season 18 has a total of 16 episodes and the second episode of this season marks the 400th episode of the entire franchise. 
Read about American Horror Story Season 10
Who Are The Cast Members Of NCIS Season 18?
The main stars of the show are,
Mark Harmon as Leroy Jethro Gibbs

Sean Murray as Timothy McGee

Wilmer Valderrama as Nick Torres

Emily Wickerman as Elenot Bishop

Maria Bello as Dr. Jacqueline Sloane

Brian Dietzen as Dr. Jimmy Palmer

Diona Reasonover as Kasie Hines

Rocky Carroll as Leon Vance

David McCallum as Dr. Donald Mallard
Some of the guest stars that can be seen in the show are,
Steven Bauer as Miguel Torres

William Allen Young as Moses McClaine

Zane Holtz as Dale Sawyer

Tijuana Ricks as Pamela Walsh

Chris Browning as Tom Dalton

Katrina Law as Jessica Knight
What Happens In Season 18 Of NCIS?
The show continues its pattern of solving criminal cases in the eighteenth season as well. The show reveals the reasons behind Gibb's shooting of McGee. It also shows Jimmy being a single parent because his wife Breena was gone. He is not dealing with the loss very well.
Gibbs and Agent Tobias Fornell, who is a former FBI Agent, had gotten together to bust the drug dealers that put Emily, Fornell's daughter in the hospital. They shut down the ring successfully but she dies after a relapse.
The season also revisits the previous incidents such as Gibbs disappearing without informing anyone and without telling any of his whereabouts. They also show how Gibbs and Ducky met. The case through which they met in strange circumstances. 
Towards the end of the season, the team is shocked as Bishop is accused of an old NSA leak. McGee and Knight try to prove her innocence but she ends up quitting after things got complicated. But it is revealed that Bishop's quitting was orchestrated between her and Odette Malone, so that Bishop can go on a long term undercover mission. 
Get to know everything about Euphoria Season 2
Ratings For Season 18 Of NCIS
NCIS generally has received a lot of love from the US. It is quite popular in rural areas such as rural Maine and Pennsylvania. A total of 12.58 million viewers tuned in to watch the show live on television. 
The audience has appreciated the show throughout the 18 years of its premiere. Since the seventh season, NCIS has been the most watched scripted show in America. 
Where Can You Watch NCIS Season 18?
The episodes of NCIS Season 18 can be viewed on CBS All-Access. The previous seasons are available on Netflix and are on reruns on USA Network. 
Check out The 100 Season 8: Here Is Everything That you Need To Know!
About Season 19 Of NCIS
After the successful season 18, the idea of season 19 is a no brainer. Season 18 ends off with a cliffhanger and the viewers are extremely happy to get their questions answered. The first episode of Season 19 of NCIS aired on 20 September 2021.It's on television every Monday at 9 p.m. ET and 8 p.m. CT. 
Most of the previous cast members are back this season and the story continues from the explosion of Gibbs boat.
Check out the trailer for Season 19 here
Should you watch it or not?
If you love police dramas and criminal investigations then this show is just for you! Going strong for almost 2 decades now, it does a good job with showing the working of solving mystery cases. You should definitely give it a watch! 
NCIS has amazing characters and plot lines. The show has surprised fans in every season and is still going strong even after 2 decades of its debut! Do give this series a try and stay tuned for more updates about the same.