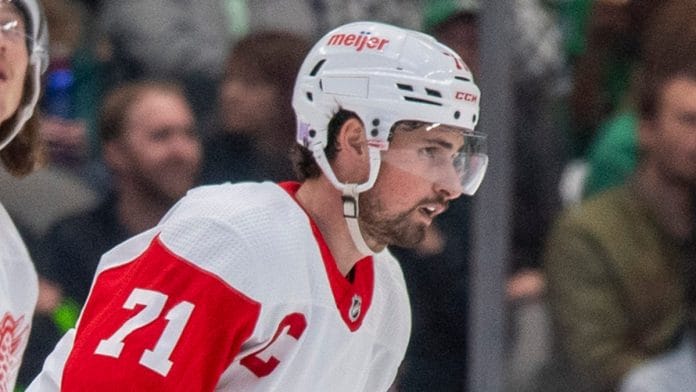 Larkin from playing with Red Wings
Captain Dylan Larkin was removed from Tuesday's game against Dallas after the second period, according to coach Jeff Blashill.
Blashill stated that Larkin would be unable to travel with the squad and would remain in Dallas.
The Red Wings finish their road trip with games in Vegas on Thursday and Arizona on Saturday, following a 5-2 setback to the Stars.
Blashill Said He Had No Idea What Larkin's Next Move Would Be.
"You have to go through a series of steps," Blashill explained. "For the time being, he's on COVID protocol. (On Thursday), I'll have additional information.)"
Larkin scored his team's second goal at 14:39 of the second period to trim the Stars' lead to 3-2, and he had logged 12:25 of ice time before learning he couldn't return during the second intermission.
"Obviously, that happened in the middle of the game," Blashill explained. "We've got to figure out where everything stands, talk to Steve (general manager Yzerman) tonight, tomorrow, and figure out what we're going to do for Thursday," says the team.
"Fully vaccinated athletes will be subjected to laboratory-based or Point of Care (POC) RT-PCR testing at least every 72 hours, with findings accessible within 24 hours after collection," according to the NHL's COVID protocol.
Tyler Bertuzzi, the only unvaccinated player in the NHL, is tested on a regular basis.
Larkin has had a rough season off the ice, missing the final three games of the previous road trip (Nov. 2-6) due to a family problem, which he subsequently recounted.
On the ice, Larkin is well on his way to making up for his poor performance last season. He has eight goals in 14 appearances and has five goals in the last five games. That's one goal less than he had in 44 games last season.
Larkin, Bertuzzi, and rookie Lucas Raymond have established a formidable top line, but they haven't been able to stay together all season due to unforeseen circumstances.
Bertuzzi was unable to play three games in Canada because he was unable to enter the border.
Stay tuned to HonkNews for the latest sports news!