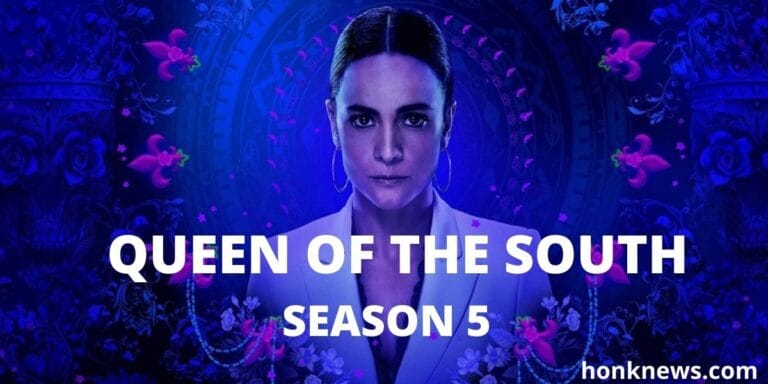 I am sure you all are interested in watching web series, and yes you must have watched many web series as of now. Since the 2020 pandemic, we all are somehow addicted to this. As soon as the new one releases we sit to binge-watch another, right? You must have watched innumerable web series in various genres. I am sure you also love crime and drama the most, like me. Talking about crime and drama one web series just hit my mind. Have you ever watched Queen of The South?
About the Series and Release of Season 5 of Queen of the South 
Queen of the South is an American Crime Drama television series which was first premiered on June 23, 2016. The drama was developed by M.A. Fortin and Joshua John Miller on USA Network. It is an adaptation of the telenovela La Reina del Sur which airs on USA's sister network Telemundo.  They both are adapted from the novel La Reina del Sur by Spanish author Arturo Pérez-Reverte. The series is divided into 5 seasons. Queen of the South season 5 will end on June 9, 2021, and it will be the final season of the series. The fifth season was renewed on August 29, 2019. But due to Covid-19, the production was suspended on March 14, 2020.  On March 8, 2021, it was announced that the fifth season would premiere on April 7, 2021. 
Starcast of the Series 
The star cast of the show is the finest actors. We can see 
Alice Braga

as Teresa Mendoza

Veronica Falcon

as Camila Vargus in season 1-3

 

Justina Machoda

as Brenda Parra in season 1 and guest season 4

 

Peter Gadiot

as James Valdez in season 1-3, 5 and guest season 4

 

Hemky Madera

as Pote Galvez, Gerardo Taracena as Cesar in season 1 & 2

Joaquim de Almeida

as Don Epifanio Vargus in season 1-2 and guest season 3

 Jon-Michael Ecker

as Raymundo in

season 2–3, recurring season 1, guest season 4

Yancey Arias

as Alberto Cortez in season 1-3

Alfonso Herrera

as Javier Jimenez in season 1-4 and recurring season 3

Andrews

as Judge Cecil Lafayette in season 4 

Molly Burnett

as Kelly Anne Van Awken in season 5 and recurring seasons 2 and 4. 

Plot- Queen of the South Season 1 to Season 4  
Teresa Mendoza (Alice Braga) a woman who leads the whole series with her spectacular performance. A poor Mexican woman, who builds a drug empire and is overflowed with rich wealth. She lives in the Barrio of Culiacán in Sinaloa, Mexico. After falling in the love with a member of the drug cartel, she tries to improve her living condition. Hearing the news about her boyfriend's murder, she escaped from there and on the United States border, she meets a person from her past and joins hands with him so that he can take down the drug ring that is after her. After learning about the basic tools of the trade, she started her own drug distributing organization, after which she becomes rich. But all these scenarios created more problems in her life afterward.
Some Reasons for the delay in the Series 
The show has made comeback on USA Network, but it is yet to be premiered in my state and yours. But as I am waiting for the finale season, I am sure you too must be waiting, right?  "According to Express.co.uk, the script supervisor of the show Barry Caldwell took to his Instagram in January 2021 and spoke about the release of the show. He said, "Regarding Netflix and non-US broadcast TV, we have no idea. In the first four seasons, we hit Netflix one year after the TV premiere. That would normally put the Netflix premiere in April 2022. However, we are trying to get it pulled up sooner. This is all we know at the present time'' 
As per the media report, Queen of the South season 1 was aired on Netflix after eight months of the release (Sep 15, 2016- May 2017). The same happened with the second season, it took nine months to (Aug 31, 2017= May 2018). And yes likewise it happened with the third and fourth season, it took eight and nine months to be aired on Netflix (Sep 13, 2018- May 2019) – (Aug 29, 2018- June 2020).
So yes, for Queen of the South Season 5 I have to wait for eight to nine months like you. And that's sad, right! 
Your wait will be over soon! 
And yes, if I am waiting for the last season with so much eagerness, to watch Alice Braga's stunning performance, you will also wait. Go and watch all the Four Seasons of Queen of the South now on Netflix. Queen of the South season 5 will be back again with its spectacular thriller to leave us all crazy.