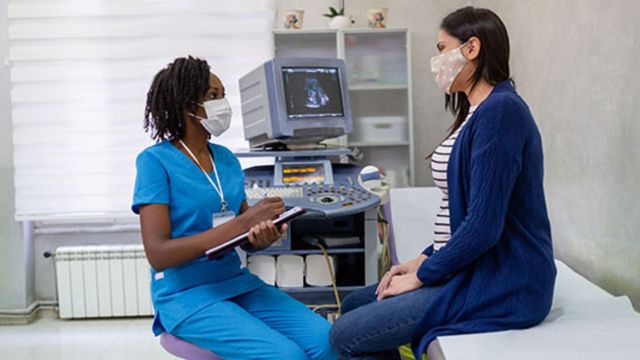 Prenatal COVID vaccination linked to decreased risk of NICU stay and stillbirth
According to a systematic review and meta-analysis published in JAMA Pediatrics, COVID-19 vaccination during pregnancy was associated with a lower risk of neonatal intensive care unit (NICU) admission, stillbirth, and maternal SARS-CoV-2 infection and no additional risk of preterm birth, small for gestational age (SGA), low Apgar score, caesarean delivery, postpartum haemorrhage, or chorioamnionitis.
Leading the study of nine observational studies comparing the pregnancies of 81,349 women who got at least one dose of the COVID-19 vaccination with those of 255,346 counterparts who were not immunised through April 5, 2022, were Japanese researchers. The unvaccinated group's average age was 29.5 to 33 years, compared to the vaccinated group's average age of 32 to 35 years.
98.2% of women who had gotten vaccinations did so with an mRNA vaccine (Pfizer/BioNTech, Moderna, or unstipulated), 1.1% with a viral vector vaccine (Oxford/AstraZeneca or Johnson & Johnson), and 0.7% without documentation.
85.4% of the women in the six studies that provided the dosage count received two doses of the mRNA vaccination. 5.9%, 46.3%, and 47.8% of women received their first dose during the first, second, and third trimesters, according to seven studies that examined the timing of the first dose.
Low maternal vaccination rates globally
There was no significant additional risk of preterm birth (OR, 0.89), SGA (OR, 0.99), low Apgar score (an indicator of newborn needing medical attention; OR, 0.94), a caesarean delivery (OR, 1.05), postpartum haemorrhage (OR, 0.95), or chorioamnionitis associated with COVID-19 vaccination during pregnancy. Instead, there was a lower risk of NICU admission (OR, 0.88), and stillbirth (OR (infection of the placenta or amniotic fluid; OR, 0.95).
According to the date of the first immunisation dosage, preterm birth and SGA rates were reported individually by four studies. Women who received the first-trimester vaccination compared to women who had not gotten a vaccination did not substantially vary in terms of the incidence of preterm delivery and SGA (ORs, 1.81 and 1.09, respectively).
However, there was a link between immunisation during the second or third trimester compared to no vaccination and a lower risk of preterm delivery (OR, 0.80) and SGA (OR, 0.94).
The study's authors concluded that their findings "confirm the safety and effectiveness of COVID-19 vaccination during pregnancy, facilitating the vaccination rates among pregnant individuals even if they do not receive the vaccination before pregnancy."
The researchers recommended that clinicians encourage pregnant women to get vaccinated against COVID-19 because it is known that COVID-19 infection during pregnancy is linked to bad outcomes for both the mother and the unborn child, including hospitalisation, the need for critical care, and death.
However, vaccination rates in this group continue to be low globally despite mounting evidence of the safety and efficacy of COVID-19 vaccination in pregnancy for mothers and babies. According to studies on tetanus, diphtheria, pertussis and influenza vaccines, "vaccine communication encompassing information and recommendations can boost COVID-19 vaccine uptake among pregnant individuals."
To clarify the long-term effects of COVID-19 vaccination during pregnancy and provide additional assurance of its safety and efficacy in reducing negative outcomes, the team urged for future large cohort studies with extended follow-up periods.