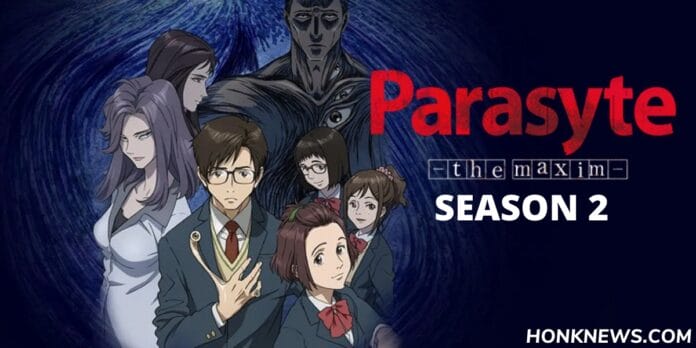 All About Parasyte: The Maxim
Parasyte: The Maxim is a Manga series adaptation which released on October 8th, 2014, and ended on March 25th, 2015, with a total of 24 episodes. It is an anime famous for its genre which is horror and Sci-fi. The story is about the war between humans and aliens.
Read this article till the end to know about the Release date, Flashback, Expected Plot, and Review of Parasyte the maxim season 2!!
Parasyte the maxim: Flashback
The first season of Parasyte the maxim started with a 17-year-old student, who lives in Hiroshima. This story was all about, how aliens attack humanity by entering into the body of humans in the form of parasites and take control over their brains of humans.
It was all about the fight of Shinichi, the central character of this show, and the extraterrestrials. The thrill of the series mixed with fiction made it even more amazing to watch.
In the first few episodes, you see how Shinichi feels odd about his right hand as in the previous night; a parasite has entered into his body through his hand as it was unsuccessful through his ear as Shinichi was having his headphones on.
He later feels that his hand is not in his control anymore as it starts moving because of the parasite. Shinichi then comes to know about a fact that any parasite can only be defeated if its heart is destroyed from the host and therefore he had no other option left than co-operating with the parasite. Check out KonoSuba Season 3, it is beautiful too!!
We will also see, how in the ending everything is sorted and how Shinichi stares off into the sky, smiling making us know that it is a happy ending.
But the question here is whether it is a happy ending for season 1 or an ending for the entire series?
Expected plot for Parasyte the maxim season 2
As of now, I feel it is difficult to predict the plot for season 2 of Parasyte the maxim as it may or may not be made as Madhouse studio. Which created the anime has not yet renewed it for another season and also the conclusion of the first season was also pretty happy and good similar to the ending of the original manga, giving it even fewer chances for a season 2 as there is no proper storyline left to continue, but let's hope for the best.
Release date of Parasyte the maxim season 2
As I told you earlier that the next season may or may not be renewed as the Manga's publication ended in 1995. But the chances of getting the next season can only be possible if it performs well on Netflix and Netflix renews it for earning profit. If it does renew it the date we can expect will be sometime in the second half of 2022.
Review and Ratings
With a dazzling review of 8.3 on 10, this show has not only won awards but also has won our hearts. The show was re-released on Netflix in the lockdown and as viewers like me were searching for a good anime series, I got this beautiful horror and science fiction anime and I had to Binge- watch the entire season in 2 days as it was super interesting, no doubt why it is known as the most loved anime series, just like Black Clover Manga Series!!
So if you haven't watched this series then I recommend you strongly to watch it and once you are done I am pretty sure you will crave for season 2 and maybe your wish for season 2 could come true, who knows?
Hope you enjoyed reading this article. Do share your views in the Comment Section.