A family's tropical vacation at a secluded beach turns into a thriller vacation when they discover that they're rapidly aging, narrowing their life down to just one day. Seems like a gripping time-lapse with an unexpected ending? That's M. Night Shyamalan for you!
Continuing his effective gruesome style of directing, Shyamalan brings to you a playful and quick unconventional thriller.
Head over to our website to read more about such topics.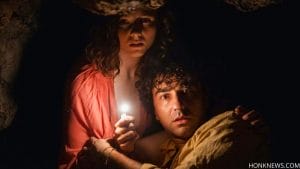 Release Date: 23 July 2021
Running Time: 108 minutes
Budget: $18 million 
Adapted from a French graphic novel, 'Sandcastle' by Pierre Oscar Levy and Frederik Peeters, the movie features a ensemble of
Release Date Revealed Power Book II: Ghost Season 2
Gael Garcia Bernal

Vicky Krieps 

Rufus Sewell

Alex Wolff

Thomasin McKenzie

Abbey Lee

Nikki Amuka-Bird

Ken Leung

Eliza Scanlen

Aaron Pierre

Embeth Davidthz

Emun Elliot
'Old' Trailer
Watch the trailer here:
What is 'Old' about?
Written and directed by M. Night Shyamalan, the movie revolves around a mysterious beach which is visited by three families. 
They are having the time of their lives, enjoying the sun and the waves but everything turns haywire when they find a dead body that decomposes in a few minutes, the kids start aging into adolescents, the adults start having wrinkles and a random tumor begins to grow in a lady's stomach.
As they try to figure out everything that is happening around them, they realize that something is wrong with the beach. The beach is rapidly aging them, covering a time span of 1 year in almost 30 minutes. Unable to understand the reason behind this or methods to prevent this from happening, the movie shows the characters being helpless throughout.
Things That Inspire Blood Brothers: Malcolm X and Muhammad Ali
They discover something common amongst themselves, everyone has an underlying disease and when they try to escape they lose their consciousness and find themselves back at the beach. Everyone tries their best to escape the situation as things are happening rapidly. As they keep failing, a resort employee declares the entire group to be dead.
Where can you watch 'Old'?
The movie is currently in theatres and its release on any of the streaming platforms has not been discussed yet. 
Filming location of 'Old'
During the pandemic, the film was shot in the Dominican Republic for three months with Michael Gioulakis, the cinematographer incharge for this movie.
Box office collection
This American thriller made $88.6 million worldwide and received both praise and criticism for the film.
Ratings for 'Old
'
The movie received a rating of 5.9/10 on IMDB, 50% on Rotten Tomatoes and a 55% on Metacritic.
What do the critics have to say about 'Old'?
The cinematography and the concept were praised by many whereas the acting and screenplay of the movie were highly criticized. The ending twist of the movie and series of events occurring in the movie were neutrally accepted by the audience. There were high expectations from Shyamalan with this adaptation after his incredibly directed movies, "Split", "The Sixth Sense", "Glass". 
Breaking Down the Trailer Hawkeye
Is this movie for you?
While the movie received a mixed review by the critics, the decision to watch this movie is yours. If you are someone who enjoys the striking visuals and a good sense of directing, this movie is definitely for you. Sadly, the movie doesn't mold into its potential and can be quite an unsettling watch.
Overall, 'Old' is fascinating and intriguing but also taps into the extreme surreal face of the thriller genre.