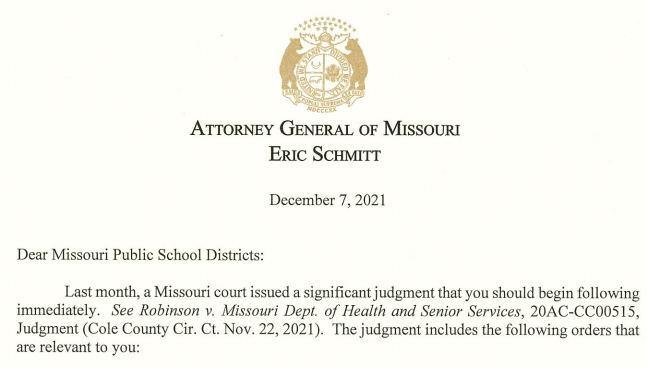 Missouri Attorney General Eric Schmitt on Tuesday requested the school districts and local public health agencies to stop enforcing COVID-19 mandatory measures like wearing masks and quarantines, or else strict measures would be taken against it, he stated.
In letters that were sent to school districts and public health agencies, he stated a ruling last month from Cole County Circuit Judge Daniel Green, who put out a statement that health orders that were being issued understate health regulations by the local authorities were "null and void."
"Failure to follow the court's judgment may result in enforcement action against you to remove orders the court has determined are unconstitutional and illegal," Schmitt wrote in the letters that were given out.
Check out non-governmental incentives: while Washington hesitates, state and local governments release versions
Schmitt also stated in those letters that local governments and school districts should immediately stop enforcing or putting out public health orders such as it is mandatory to wear a mask and quarantine orders because them giving out such orders is not authorized by the state laws.
This has surely put the local governments and school districts in ca confusing state, as on what authority they should be l0ooking forward in following such orders; because such orders are still important for the school kids as to protect them from getting ill.
While on the other hand, the authorities said that they would prefer to work smoothly and with caution, and come up with a plan measure that works for all school districts.