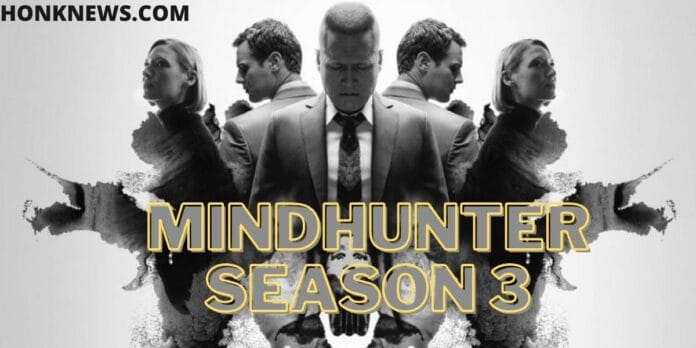 I am pretty sure you all must have watched MindHunter seasons one and two, and you are here to learn more about MindHunter season 3. So let me help you with this. Let us find together about the series MindHunter.
MindHunter: About the Series
MindHunter is a psychological crime thriller television series. The series is based on a 1995 crime book MindHunter: Inside the FBI's Elite Serial Crime Unit. The book was written by John. E. Douglas and Mark Olshaker. And the thrilling series was created by Joe Penhall. 
The producers of the show are  Penhall, Charlize Theron, and David Fincher. The show was originally released on Netflix. The show running time is 34-73 minutes. The first season of the show was released in the year 2017, on Netflix on the 13th of October. The second season was premiered on 16th August 2019, on Netflix. 
The two FBI agents Holden Ford( Jonathan Groff )and Bill Tench(Holt McCallany), and psychologist Wendy Carr launch a research project so that they can interview serial killers. They can understand their psychology, and this will help them to solve the cases. 
In the first season, the era of 1977 to 1980 is clearly highlighted. And the investigation about the clever serial killer Cameron Britton takes place.  Edmund Kemper assists Ford and Tench in this case and helps them to understand the psychology of the killer. 
The second season highlights the era around 1980 and 1981. In the second season, Ford and Tench are investigating the Atlanta Murders of 1979 to 1980. In this murder case, around 28 people died and most of them were children. 
Read more about Black Lightning Season 4. 
MindHunter Season 3: Let Us Know More
MindHunter two seasons were released in the years 2017 and 2019. But we don't know whether MindHunter season 3 will be coming or not. But it was announced by Netflix that season 3 of the series will be made in the near future. 
According to the report, McCallany said, "He would jump at a chance of kickstarting season 3 along with Fincher and the rest of the cast." "Look, it's all up to David, you know? It's whatever David wants to do. If David wants to come back and do it, I'll certainly come back," 
So till then, we can wait for season 3 to come and watch the other two seasons only on Netflix. 
And read more about City on a Hill Season 2