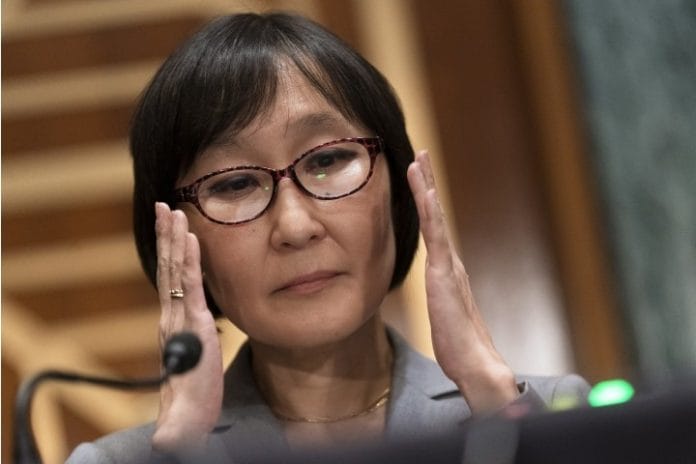 Recent Democratic overreach in Washington ranges from recurring tax and spending initiatives to executive branch nominations that harm our economy.
Saule Omarova's nomination as Comptroller of the Currency for a five-year term is a prime example. Throughout her career, Omarova has shown a strong dislike for the free market and a preference for disastrous economic policies.
The OCC is an independent Treasury Department office that "charters, regulates, and supervises all national banks, federal savings organizations, and foreign bank branches and agencies." It regulates around 1100 banks.
The OCC's influence has grown along with the gig economy. Apart from national banks, the OCC director sets policies for emerging financial sectors with limited government scrutiny, according to Bloomberg Businessweek.
In addition, cryptocurrencies and app-based financial firms are rapidly competing with conventional banks."
Omarova is a strong proponent of expanding the Federal Reserve's scope and authority.
She favors a plan to provide "free" bank accounts to all Americans via the Federal Reserve and the USPS.
To put it another way, Omarova recently proposed that FedAccounts totally replace private bank deposits rather than compete with them.
A consumer deposit account is a checking or savings account that is held by an individual or a business. The federal government would thereby abolish all market competition, harming normal Americans and all banking customers.
The notion to give the Fed additional economic authority is not unique. In a 2016 journal article, Omarova urged for the government to decide commodity pricing for commodities like "fuels, foodstuffs, and certain other basic materials," as well as "wage or pay indices."
Personal assaults and insinuation have dominated the confirmation process.
A scholarship named for Vladimir Lenin, the first cruel tyrant of communism, has been exploited against Omarova by Republicans. They want to view her thesis on Karl Marx's economic analysis.
Supporting Omarova might cost Democrats political capital if the issue is correctly presented. Supt. Raphael Warnock (Ga.), Sens. Catherine Cortez Masto (Nev.), and Krysten Sinema (Ariz.) are all members of the Banking, Housing, and Urban Affairs Committee.
Warnock and Cortez Masto may face tight contests in 2022, while Sinema has rejected some of her progressive colleagues' most extreme demands.
"I was in the Soviet Union, where there was no academic freedom, and this was an obligatory given topic," Omarova said. "I know Soviet-style communism doesn't work," she said. I was there. That system was a mess. It died."
Because such reasons are conceivable, Republicans should emphasize Omarova's commitment to economic policies that have historically hampered the growth of opportunity and prosperity for ordinary people.
The evidence against Saule Omarova's nomination is overwhelming.