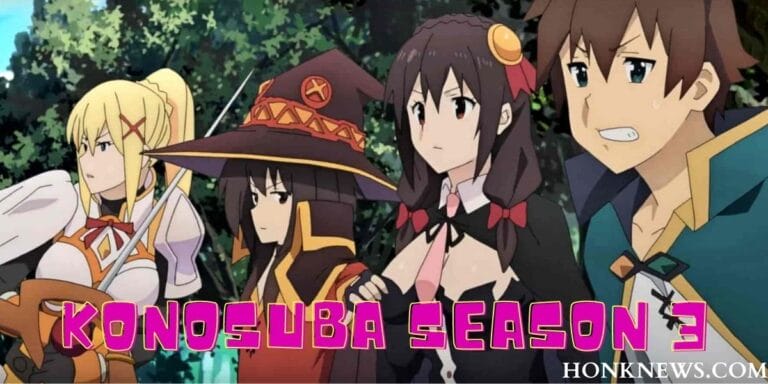 The world of Anime is filled with bundles of series and yes every series is divided into seasons. Nowadays you are so crazy about Anime Series, right? Have you watched all the series by now? Have you seen KonoSuba? While I am talking to you about this, let me ask you something, have you seen KonoSuba season 3? Yes or No? 
Let me take you on a ride to KonoSuba"s world, where two seasons are released. And we will also find some detailed knowledge about KonoSuba season 3.
About the KonoSuba Season 3
KonoSuba is an adventurous series. It revolved around the Kazuma Sato who meets his untimely death and has been sent to MMORPG World. Later Kazuma constructed a party with Goddess named Aqua, Archwizard, and Crusader.
Kazuma was offered some superpower ability so that he can use those in the new world. But he, later on, ask the Goddess Aqua to guide him to the town of Axel. 
Aqua is also troubled during the whole journey. She is unable to return to the afterlife, until and unless the Devil King is defeated. Kazuma and Aqua form a party but later on, Kazuma gave up the idea of defeating the Devil King and wanted to live a comfortable life. 
Natsume Akatsuki has written this Japanese light novel series, KonoSuba. It was serialized as a web novel between December 2012 and October 2013. It was printed as light novel series from October 2013 to May 2020. 
The series was further illustrated by Masahito Watari and Joseph Yokobori, as Manga series and it was published in Monthly Dragon Age Magazine in October 2014. In March 2015 the radio drama series was released by Hobi Records. 
Studio Deen aired the series as an Anime Television series from January to March in 2016. And the second season was aired in 2017 between January and March.
And in July 2014, the spin-off novel series started its publication. Later, on 30th August, J.C Staff adapted it as an anime film in the year 2019. 
Some Details About KonoSuba Season 3
The release date of KonoSuba Season 3 has not yet announced. As per the media report, "However, hints were taken when, Junichiro Tamura, the business producer of Kadokawa which is behind KonoSuba, participated in a Reddit AMA. Although he was promoting a different anime, fans couldn't help but ask about season 3 of KonoSuba. Tamura stated, "KonoSuba season 3 has a good chance if the movie does well."
So This might get released in 2021 or latest by 2022. It all depends on sales and streaming revenue. 
Watch the other two seasons of KonoSuba on Crunchyroll. 
I hope you liked it. Please help us with your feedback in the comment section.
Your feedback would be appreciated.