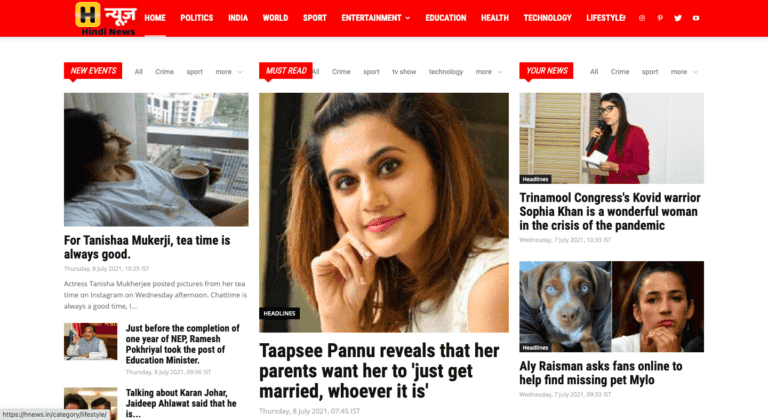 Numerous news channels have populated the digital space but few possess the dexterity to present the news in the most unbiased yet Captiva manner. Hnews is a Hindi news portal based in Jaipur, Rajashthan that strives to serve you news via the digital space without any undue alterations to the contents. Hnews believes in concrete facts, one of the pillars of journalism and believes in ground reports and factual journalism rather than cooking up stories to gain viewership.
Hnews was launched in 2018 by Mr Anoj Kumar Yadav who intends to serve factual journalism to the Indian audience rather than the mockery that runs on the TV and internet nowadays. He says, "Hnews is a lot more than just a news website. It is a gateway to the latest news and events happening across multiple business sectors, share markets, politics and technology, both in and out of the country. The most distinguishing factor of Hnews is that it is in the Hindi language to accommodate a large subsection of users who felt left out because of primarily English news websites. Our audience has proliferated a lot since 2018 and now boasts of millions of dedicated viewers who trust Hnews for their daily news round-up."
Hnews doesn't give in to the temptation of lucrative and powerful advertisement offers just to compromise with the integrity of news pieces. The main intention behind the move is to keep the stronghold of content with the editorial department and to never spread false misconceptions and pass them as news because it involves a monetary gain. News strives to expand their ground reporting even further and to reach the unheard voices of rural India which is gravely hurt by the pandemic, joblessness and scarcity of ration.
With the sheer number of visitors on each news piece, the news website has a chance to spread awareness and compel the regulatory bodies in making policy changes that could help people. The news portal is far more accessible on any computing device and offers excellent readability with a clean and clutterless interface, devoid of advertisements.