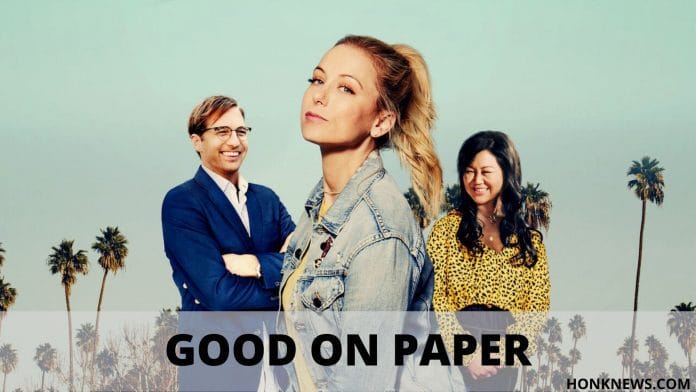 Want to watch a fun romantic-comedy to light up your mood? Don't worry, Good On Paper is just the right choice for you! 
Good On Paper is about a stand-up comedian Andrea Singer who comes across the most perfect guy there could be. He clears all the criteria on the checklist but can any guy be this perfect?
Read more on Netflix's Umbrella Academy Season 2
Plot Of "Good On Paper"
The movie revolves around a sad yet quirky story of Andrea Singer's ex, who scammed her at every stage of their relationship. Andrea is a stand-up comedian and an actress who is trying to find roles at any given chance.
On her way back from an audition she finds herself next to a guy called Dennis Kelley. He is just the perfect guy with a prestigious educational background, a good job, a house and a nice sense of humor. As they spend more and more time together, she becomes close friends and Dennis asks her to be his girlfriend. 
At first she rejects him but then some time later, they get drunk and hook up at the end of the night. This is where they start dating. After sometime Andrea and her friend Margot start questioning everything that he does and find out that he's been bluffing all this while.
Is "Good On Paper" Based On A True Story?
Iliza Shelsinger mentioned in an interview that the first two-thirds of the movie are the true parts. She also stated that her real life story was extremely slow and drawn out one. The comedian was actually scammed by the cute guy she met on the airplane.
She also mentioned, "The lies were not earth shattering, nothing in line with "I'm the king of Spain, and I have a fleet of horses that live on a yacht." In real life, her mother was the one to figure out that something is fishy with the guy.
"It started as a bit of a revenge fantasy, but the more I worked on it and more people signed on, it became something creative and fulfilling." Iliza says. 
Know more about Netflix: Clickbait 
Cast Of "Good On Paper"
Good On Paper features,
Iliza Shlesinger as Andrea Singer 

Ryan Hansen as Dennis Kelley 

Margaret Cho as Margot

Rebecca Rittenhouse as Serrena Halstead

Matt McGory as Brett

Tyler Cameron as Handsome Man

Taylor Hill as Chanterelle

Kimia Behpoornia as Maggie

Beth Dover as Leslie
Release Date of "Good On Paper"
The official distributor of the movie Good On Paper is Netflix. The movie released on June 23 2021 on the same platform with a running time of 92 minutes. 
Read about Don't Look Up: Finally Coming on Netflix This Year
Watch The Trailer of "Good On Paper" Here
If you haven't seen this light-hearted romantic-comedy, do give it a try by watching the trailer first. You can watch it here,
Where Can You Watch "Good On Paper"?
The complete movie is available on Netflix and you can watch it there.
Get to know everything about TVF's Kota Factory 2
Ratings of "Good On Paper"
Rotten Tomatoes gave an approval rating of 53% with an average rating of 5/10. It received mixed reviews from everyone. 
Overall, Good On Paper is a delightful watch and is indeed based on a true story. If you haven't checked out this movie yet, I would suggest you immediately do. You will definitely enjoy this real life inspired piece of work!