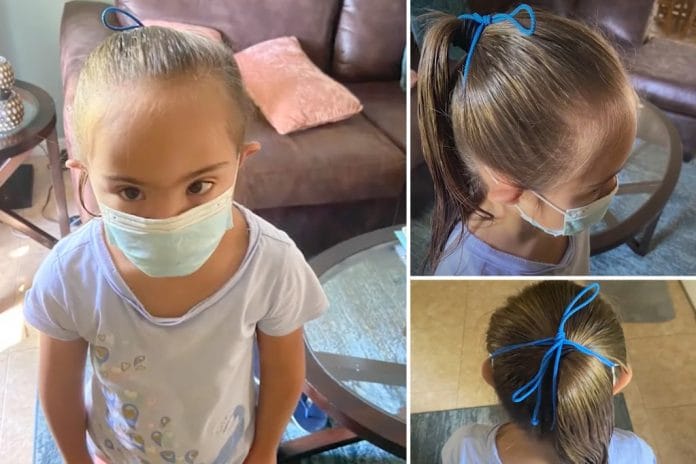 According to the police, tying a mask on a disabled student was not considered child abuse.
According to Fox News, authorities ruled that a Florida school attaching a mask to a handicapped student's face did not constitute child abuse after an inquiry.
Sofia Bezerra, a seven-year-old Down syndrome girl, was discovered wearing a mask fastened to her head with a nylon thread when she got off the school bus after school on October 7th.
Her stepfather, Jeffrey Steel, claimed she didn't wear a mask to school that day because she had acquired a medical exemption from the school's mask requirement.
Steel said that his stepdaughter has an extended tongue as a consequence of her Down syndrome and breathes predominantly via her mouth, making a mask more harmful for her; when she returned home, the mask was moist with her own saliva.
The school did not warn Steel or his wife, Sofia's mother, that Sofia would be compelled to wear a mask, and no agreement was granted for her to be forced to wear the mask. When Steel reported the event to the administration at Ocean Breeze Elementary School, the police were called since the occurrence may be considered child abuse.
The Indian Harbor Police Department, however, ruled after almost two months that "there is insufficient evidence to warrant a criminal infraction," adding that "no evidence given suggests that Sofia experienced a bodily or mental damage."
"As witnessed by multiple teachers, school aides, bus drivers, and school administration staff, (Sofia) never displayed any signs of distress, discomfort, difficulty breathing, or any other health concerns while wearing the mask tied on," the report continued, before declaring the "case is closed as Unfounded."
Several of Steel's claims were conceded in the report, including that instructors neglected to get approval from her parents before trying to put a mask on her using a variety of ways.
Steel has subsequently engaged an attorney and has said that he would pursue legal action against the institution. Despite Governor Ron DeSantis' (R-Fla.) prohibition on mask requirements at the municipal level, Ocean Breeze is one of the numerous schools in Florida that has imposed one.