Dropkick on My Devil! : the Devil and the Sorcerer Are Coming Back With More Stupidity and Cleverness for Season 3!
For the summoner, summoning demons hasn't ever worked out. Demons nearly always demand payment, so whatever strategy the summoner is considering is unlikely to succeed in the long run.
Yurine, the protagonist of the anime Dropkick On My Devil! summoned the demon, so now she had to share her room with that as well. To top it off, the demon Jashin-chan is unable to travel back home unless Yurine dies.
The comedy anime follows two adorably designed girls as they do their hardest to kill each other while simultaneously getting caught up in the usual comedic anime antics.
Moreover, Yurine's problems do not appear to be going away anytime soon. For instance, because Jashin-chan is immortal, the rivalry is more akin to a never-ending fight for survival. Furthermore, the show's producers and viewers simply do not want it to end.
Dropkick On My Devil! demon's brains confirmed the creation of a season 3  after the anime's second season ended broadcasting in 2022. Thus, here's all we know about the forthcoming season so far.
Dropkick on My Devil! : When Is the New Season Coming?
Drop Kick On My Devil!  The third season production is particularly fascinating. Fans were just not waiting for news as they were for a number of other anime that had gone on a pause. Rather, they were picking up the tab for Season 3 on their own own.
Following the conclusion of Season 2, the series' official website started a crowdfunding effort to support Season 3. As per Anime News Network, fans contributed enough to reach the campaign's target in just 33 hours.
Not only that, there was this one funder, who even paid 1.1 million Yen which is roughly about $10,000 as a reward. He was given the opportunity to title the upcoming season, which is named "Drop Kick On My Devil! X," in exchange for his money.
Also Read:
Suzume No Tojimari: What We Know So Far About Makoto Shinkai's Upcoming Film?
Ghost in the Shell: SAC_2045: The Second Season of the Anime Is Coming With More Action and Fantasy!
The "X" in the title, according to the funder, indicates the desire that "Yurine and Jashin-chan will cross one another and fight forever." As a result, the X stands for endless slashing, which is a wonderful fit.
On December 8, 2021, it was announced officially that the release date for Dropkick On My Devil! Season 3 will be July 5, 2022, during the Summer 2022 anime season. The intention is to "broadcast the third season in 2022" to commemorate the manga series' 10-year anniversary.
Dropkick on My Devil! : What Will Be the Storyline of the Anime?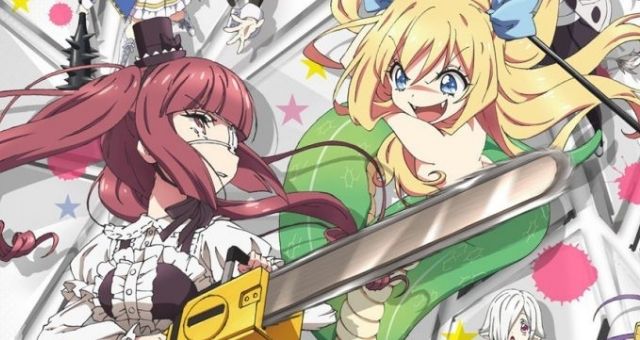 The anime is made out of a Manga with the same name and is organized very much like episodic humor than just an anime with a huge, overarching plot. As a result, the storyline of Dropkick On My Devil! Season 3 will shift in each episode, although it will all nominally revolve around the anime's central idea.
Janshin is really a lamia-type devil whose been brought to Earth by Yurine, an eyepatch-wearing sorcerer with whom she now shares a shabby apartment. Janshin despises Yurine and is determined to destroy her at any cost so that she would go back to Hell.
The trouble is that she is a stupid devil who consistently botches her murder efforts, resulting in horrific consequences as Yurine exacts wicked vengeance.
Janshin attempts in vain to entice other devils Medusa as well as Minos into her schemes, while famished angel Pekola worries over her missing halo and breaking her angelic principles. Even though the two attempts to injure or kill one other on a regular basis, the group becomes embroiled in a sequence of absurd incidents.
The two and their many demonic friends can't help but make a comedy out of everything, whether they're simply attempting to visit a hot spring in a neighboring city or attending the pachinko parlor. It's a good combination, and it'll almost certainly be repeated in the upcoming season with the same comedy and fun.
Dropkick on My Devil! : Who Are Coming Back to This Fantasy World?
The characters of the anime are the main core of this demon-cum-sorcerer parody world.
Besides Yurine Hanazono, who is portrayed by Nichika Oomori, and Jashin-chan, who is performed by Aina Suzuki, there is a full cast of characters who are scheduled to appear in the anime Drop Kick On My Devil!
Other key characters to expect to see in Season 3 are Jashin-demonic chan's buddies Medusa the Gorgon who is voiced by Miyu Kubota and Minos the Minotaur who is performed by Chiaki Omigawa.
In addition, Persephone II, who will be voiced by Riho Iida, returns to Earth in pursuit of Jashin-chan and is expected to appear in Season 3.
Also Read:
Attack on Titan: the Final Season Part 3: the Third Part Is Finally Coming With Lot of Answers!
Bastard!! -heavy Metal, Dark Fantasy: When Will the 400-year Old Wizard Going to Appear on Netflix?
Pekora and Poporon, 2 angels who got stuck on Earth upon losing their halos, will be among the celestial personalities to arrive. The two of them will be voiced by  Yurie Kozakai and Rico Sasaki, respectively. Pino, a third angel voiced by Marina Yamada, is also there for the team's shenanigans.
Who Are Involved in the Production?
Yukiwo's manga series Dropkick on My Devil! was written and illustrated in Japan. In April 2012, the series started serialization on Flex Comix's Comic Meteor web magazine. Since around December 2021, eighteen volumes had been published.
Hikaru Sato is joined by Taku Yamada as director, whereas Supa Love will compose the soundtrack. Nomad adapted all three seasons of the anime television series, and Halca collaborated with Aina Suzuki on the introductory title song "Are Kore Drastic." The rest of the information about the production team is still being kept under wraps.
Trailer!
Yes, the trailer is out and it involves the same parody fun of both Janshin and Yurine. So as we wait for the anime to launch on 5 July 2022, let's enjoy this trailer of these beautiful girls who are Devils, angels, and sorcerers.