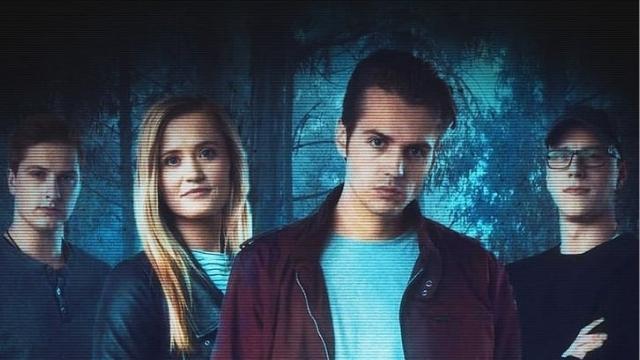 Destination Fear Season 4: When Is It Coming to Our Way?
Horror, Thriller, and Mystery have always been the most interesting genre in screening. Therefore, when we talk about the magic of horror, thriller, and mystery, "Destination Fear" is one of the series that keeps in our mind. In this article, we'll let you know everything you need to know about Destination Season 4.

Destination Fear is an American television paranormal reality show and is known for its paranormal activities. Destination Fear is based on 2016's Trail to Terror series. The series first premiered on Travel Channel on October 26, 2019. Released under My Entertainment production company. The series is written and created by Dakota Laden. Destination Fear revolves around the people that spend their nights in the most haunted places all around the world.

How Many Episodes Are There for Destination Fear's Previous Seasons?
Destination has a total of 3 seasons till now with 40 episodes. The series first released on 26 October 2019 and later released with two more seasons on April 29, 2020, and October 24, 2020.

Previous seasons of Destination Fear were successful and managed to make a huge no. of viewers and fanbase. Fans are eagerly waiting for Destination season 4. We can't wait to see more of Destination Fear, So coming to the point we'll let you know what we've found out so far about the Release Date, Cast, Plot and many more of Destination Season 4.
Destination Fear Season 4: Officially Renewed or Canceled?
The series has been loved by fans since it Premiers. The series first released in 2019, However it took time to return with another two seasons. After having three seasons, Season 4 is on demand.

The big news; Destination season 4 has officially been confirmed.
Destination Fear Season 4 Release Date: When Will It Be Released?
The news of Destination Fear season 4 has been confirmed and the production of the series has already begun. On October 11, 2021, It was revealed by Dakota Laden via Twitter that the last two episodes of season 3 were recorded in Ireland, and a week later, Discovery+ made announcement of the remaining episodes of season 3, and were released from November 6 to December 25, 2021 on Travel Channel and Discovery+.

On February 25, 2022, It was suggested in a tweet by Discovery+ that a fourth season will be premiered later. Sources also revealed that Alex Schroeder's twitter activities keep on indicating that they are shooting for season 4. It seems, Since early March 2022, the team has started filming for Destination Fear season 4.

Unfortunately there are no official updates on the release date. Let's waiting for makers to announce it first.

Although, there has been no official statement by makers about the upcoming season's release date, but considering to what we've mentioned above we can hopefully expect it will premiere next year.
YOU MAY LIKE:- Netflix's The Uncanny Counter Season 2 Possible Release Date Predictions With Indepth Analysis!
Destination Fear Season 4 Cast: Who will be joining the cast?
We are going to talk about the daring heroes of the series who host the series and are brave enough to visit such haunted places.

The television series is hosted by
They are listed below:


Dakota Laden
Chelsea Laden
Tanner Wiseman
Alex Schroeder.

Destination Fear Season 4 Plot: What Does the Plot Say?
Are you also a fan of horror and thriller? If yes, then get ready to face some amazing haunted experience that will come with Destination Fear season 4.

The series follows the people who dare to visit haunted places and share their experience. Dakota Laden along with his sister Chelsea Laden and friends Tanner Wiseman and Alex Schroeder, made a road trip in an RV so that they can actually visit haunted and paranormal hotspots across the United States. They visit asylums, schools, and hospitals, among other haunting locations.
Not only this but the participants have to spend and sleep solo overnight at each haunted location with lack of lights and black webs, and then they share their haunted experience. The psychological impact on the participants make the series even more interesting and unique.
We can't wait to see more of haunted experience in the upcoming season of Destination Fear.
YOU MAY LIKE:- The Walking Dead Season 12 Happening? Will This Make Possible Return in Coming Months!
Destination Fear Season 4 Trailer: Is It Available?
The trailer will make you even more excited and curious to watch Destination Fear season 4 that has fortunately been confirmed. same as you, we too cannot wait for the series to return for season 4. Till then Let's enjoy the trailer.

Here it is
Destination Fear: Rating and Reviews
It was liked by almost 88 percent of people and got 7 out of 10 rating on IMDb.


Why Should You Watch Destination Season 4?
The horror thriller series aims to touch on the audience's emotions such as fear, or terror. Horror documentary series usually have a disturbing theme, such as "shocking" scenes designed to startle the audience. Mostly include certain features that help them achieve their "dark" objectives.

Dark scenes filled with disturbing shadows and strange thriller of presence of the haunt is commonly seen. These scenes depict the eerie atmosphere; setting a frightening mood. A typical foreshadowing shot is a tight shot of the main character approaching the scene, trying to hide from the threat with the aim of giving the audience the creeps.
If you are looking forward to feel such experience, you should definitely watch Destination Fear 4.
YOU MAY LIKE:- Sweet Home Season 2 Release Date: Leaks on Cancellation & Confirmation! Netflix's Updates
Final words on Destination Fear season 4
It has been confirmed that Destination Fear season 4 is coming back for its fourth season. Unfortunately the release date is still unknown and we are unsure about how long it will take to be released, However we hope it will premiere as soon as possible. Based on our research, we can assume that it might be released either in late 2022 or early 2023. Once the series releases its fourth season, It will be quite interesting to see what might happen next and how things turn out? What do you think? Are you ready to get scared?

We will not forget to keep you update with all the latest information regarding Destination season 4. Stay tuned for more.