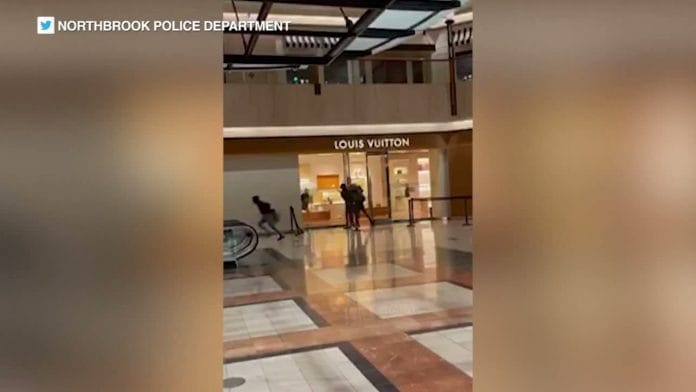 Police in Chicago Are in Search of Thieves That Robbed Louis Vitton
According to reports, police in a Chicago suburb is seeking a gang of criminals who stole $100,000 from the luxury store, Louis Vitton, at a shopping complex on Wednesday afternoon.
After the armed guard left on a brief break, the suspected crooks nonchalantly strolled inside a Louis Vuitton shop at the Oakbrook Center west of Chicago, a few individuals at a time, according to FOX 32 in Chicago.
| Black Friday Deals Today | Buy Link |
| --- | --- |
| Today Deals | |
| Laptops | |
| Computer & Tablets | |
| Tv Deals | |
| Gaming Accessories | |
| Fashion Deals | |
| Smart Home | |
| Beauty & Personal | |
| Smart Household & Kitchen | |

After all 14 of them had entered the shop, they began collecting whatever they could carry. The guard reappeared and attempted to stop them, but they eluded him.
SHOPLIFTERS ATTACKED CHICAGO LOUIS VITTON BOUTIQUE IN FULL DAYLIGHT, STEALING THOUSANDS OF DOLLARS IN LUXURY PURSES.
A Louis Vuitton purse may cost up to $3,000 on average.
The Oak Brook Police have noted down the car and license numbers of the suspects.
According to FOX 32, Oak Brook Police Chief James Kruger told reporters, "We're nailing down all those leads now, and our detectives are out working those leads."
The Chicago Tribune said that thieves reportedly stole thousands of dollars in handbags from a Bottega Veneta shop on Chicago's Magnificent Mile last month.
The robbers allegedly stole roughly $15,000 in cologne from a ULTA beauty store in Oak Brook last Friday.
Stay tuned to HonkNews for updates on this story