Blue Lock: a Most Awaited Anime in the Sports Genre Is Finally Coming!
Get ready for the Football adrenaline rush!
The sports genre in the Otaku world has taken a giant leap through anime like Haikyuu!! and Free!
A renowned Weekly Shonen Magazine manga named Blue Lock is finally getting adapted into an anime. The sports genre fans are having high-stakes on the anime's action and a number of attractive, hot, and athletic young players in this series starring 300 youths and a guy who wants to build the ultimate striker for Japan's national soccer team.
Starting August 2018, Blue Lock has been serialized in Kodansha's Weekly Shonen Magazine, written by Muneyuki Kaneshiro and illustrated by Yusuke Nomura.
Blue Lock is a thrilling, new soccer series that blends a number of shonen elements to make it a binge-worthy manga for those who are absolutely new to the series or who aren't up to date. It's been gaining steady, impressive traction in Japan, receiving positive reviews and selling well, and even gaining interest in the United States.
The Japan Football Union hires a mystery person called Ego Jinpachi to enhance Japan's World Cup play after the national soccer team crashes out in the quarterfinals of the 2018 World Cup.
Blue Lock: When Is the Anime Releasing?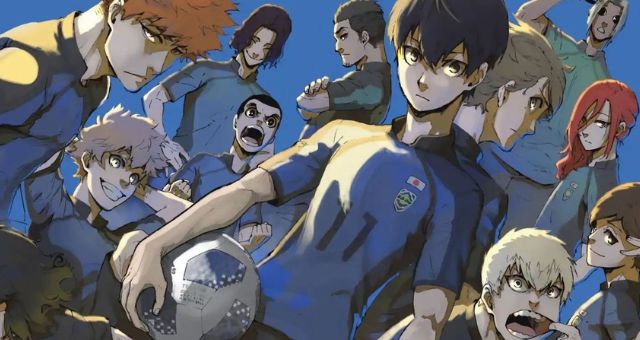 The series began as a manga that began serialization on August 1, 2018.  Due to the author's health issues, the series was put on hold at the beginning of October 2021 and restarted on the 27th of the same month. On November 16, 2018, the first volume was released in Japan, and 17 volumes have since been released.
The anime will premiere in 2022. Blue Lock has yet to receive an official release date, so we can only speculate at this moment. However, we do not expect the anime to premiere before the Fall 2022 anime season.
Blue Lock: What Is the Storyline of the Anime?
Blue Lock takes a genre-bending approach by combining the rising action of classic 'battle shonen' with a sports environment. There's the standard shonen protagonist and supporting cast, as well as high schoolers fascinated with football, for better or worse, as with shonen in general.
While Japan loses to Belgium in the World Cup in Russia, missing out on another chance to reach the quarter-finals, JFA manager Anri Teieri realizes that Japan's soccer is no longer able to advance because her coworkers are only interested in making a profit, whereas she wants Japan to win the World Cup.
Also Read:
Ozark Season 4 Part 2: Saying Goodbye!
Pacific Rim: The Black Season 2 Release Date is Finally Announced!
As a result, she accepted Jinpachi Ego's "Blue Lock" idea, which aims to pick 300 of the greatest Japanese footballers from high school leagues and send them to a unique academy.
Yoichi Isagi, who lost the high school national championship qualification match because he lacked the confidence to score the goal, instead opting to pass the ball to a less gifted teammate who failed miserably, is among the chosen. Isagi will compete in a difficult atmosphere, between advanced technologies and formidable adversaries, at Blue Lock, which seeks to enhance one of the 300 young athletes into the world's most powerful forward who will lead Japan to a football triumph.
Also Read:
Slow Horses Season 2: Release Date, Cast, Storyline And What Not?
By the Grace of the Gods Season 2: Will There Be Another Season?
During the first stage of their venture, Ego and Teieri want to make history by bringing the best Blue Lock football players to the field in the team, which also includes Isagi, against the Japan Under-20 official formation. So, if they win, the Blue Lock players will represent Japan at the Under-20 World Cup.
Blue Lock: Who Are the Main Players in the Anime?
Right now, we know very little about the cast of Blue Lock at the present. We already know some of the voice performers, however, we'll have to wait a little longer for the rest. Fortunately for you, we have some of the expected characters.
Yoichi Isagi, a forward who is classified as the second-worst striker in Blue Lock, is played by Ura Kazuki in the main cast. Saito Soma voices Hyma Chigiri, a quick forward who, after suffering an injury, is afraid of playing soccer to his full potential. Meguru Bachira is a strange player who dribbles and outwits defenders with his instincts.
Ono Yuki plays Rensuke Kunigami, a left-footed striker with a high moral character and the ability to shoot well.
When Shei Bar was originally chosen at Blue Lock, he was a member of another team. Blue Lock's Seishiro Nagi is another member. His ambition is to play football and find powerful opponents to fulfill his enthusiasm and put his skills to the test. Following his encounter with his friend Reo Mikage, he begins playing football.
Sae Itoshi's younger brother, Rin Itoshi, began playing soccer with him. Rin was a striker on every team he was a part of. Reo Mikage is the heir to the Mikage Corporation, which has a total worth of 705.8 billion yen. His sole ambition is to win the FIFA World Cup.
Who Are Involved in the Production of Blue Lock Anime?
On August 12, 2021, an anime television series adaptation of Blue Lock was revealed. Tetsuaki Watanabe is known for directing Haikyuu!! (2014-2016) will direct the series, with Shunsuke Ishikawa as assistant director, he is famous for his works like Tamayomi: The Baseball Girls. Taku Kishimoto supervises series scripts, Masaru Shindo supplies the primary character designs and serves as chief animation director, Hisashi Tojima is the chief action director, and Jun Murayama composes the soundtrack.
Where Can We Watch the Anime?
The story of this anime begins with the Japanese soccer squad, and the country's football association chooses to employ a strong and dedicated coach who can help the Japanese team win the World Cup. Inside the United States, the anime adaptation of Blue Lock will be available on Crunchyroll and VRV. Once the series begins airing in original Japanese audio with English subtitles, English dubbed versions will be available.
Trailer!
The developers of the blue lock anime have produced an official trailer. It appears that Eight Bit Animation, which also created 'That Time I Got Reincarnated as A Slime', has taken over the anime project.