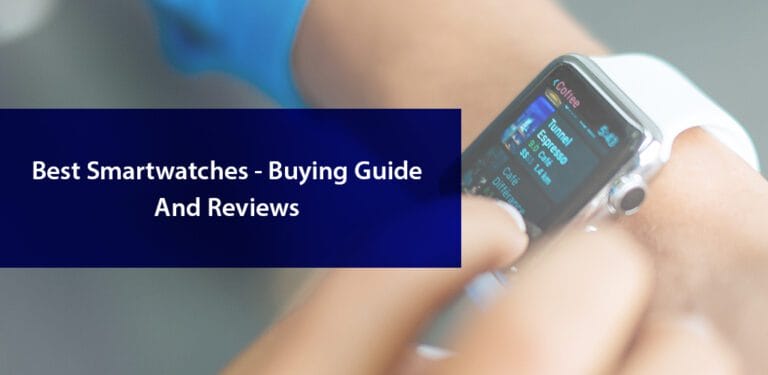 The internet is swamped with new smart watches that see the daylight every day. Brands are competing fiercely with one another at who launches the most attractive and feature-rich smart watch. This makes the whole selection process really difficult.
While owning a smart watch may be very entertaining and convenient, choosing one is not. So, to break the process down for you, we have reviewed some of the best smartwatches. Before you can go ahead and buy a new smartwatch, make sure you have an internet connection with you on-the-go as you take your smartwatch everywhere. Check out buytvinternetphone to find a suitable internet package for yourself.
 Below are some important questions and considerations that you should ask yourself before choosing a smartwatch.
How To Choose The Best Smartwatch
Functions and features
Of course, before you get any gadget, you must consider the features it has to offer. Some important and most common features that a watch must have are:
GPS
Health monitoring sensors such as accelerometer and heart rate meter
LCD/OLED screen
App selection
Female health trackers
Voice command functionality
Voice calls
Music controls
Payment features like the Fitbit Pay
Some of these features might not be of any use to you, but that should not be a problem as long as you get basic features like GPS and fitness tracking.
Compatibility
Firstly, you need to understand that every watch is not going to sync or even connect with any device you are using. Samsung Galaxy Active watch series or Samsung Tizen watches do not provide full-scale features if you use them with iOS device. Similarly, the Apple watch series is not going to work with Android or any other devices than iOS. This makes it extremely important that you consider the compatibility of the watch before you make the purchase. The design, selection of apps, its straps and its battery life are all secondary when compared to the compatibility factor.
Battery life
All smartwatches need recharging after some time of use. If you are planning on wearing the watch at all times, then it is extremely important for you to check the battery life rating of the gadget. Most importantly, you must check out reviews from people who have actually used the watch. This will help you get a clearer picture. Ideally, a good, healthy battery life should be around 1.5-2 days if used frequently. Don't think that bigger the brand name, the more battery life you will get. It all comes down usage and features. Garmin smartwatches come with highest of battery life, while Apple watches struggle with providing its users with a longer life.
Buttons or no buttons?
If you notice Apple Watch, you will find one very conventional-looking crown on the side with 2 other buttons. While the crown gives it a classic look, it also has a deeper functionality, along with the other buttons. There are some smartwatches that are entirely based on touchscreen functionality. Since the screen is very small, you only have limited options such as swiping left or right to complete your action. Some people may find it inconvenient while others may not. So, depending on your personal preference, check if the smartwatch you are buying has any other alternative option than only the touch screen. More advanced smartwatches will also have voice assistants, so that can be a plus point as well!
Straps
Different smartwatches have different types of straps. Some watches have leather straps, while there are newer models that feature a wide variety of strap materials such as ceramic and titanium. However, you should choose the material that best matches with your taste, personality and comfort.. Secondly, Apple Watch has changeable straps. This means you get one original strap, and you can change this with new and different types of straps. This allows you to personalize your watch with even printed and stylish straps. However, this feature is not available in all watches. Even if some watches have changeable straps, their replacement straps are not easily available. So, before you choose a smartwatch, make sure you have considered the usability and changeability of the straps.
Reviews Of The Best Smartwatches
Apple watch series 6
Apple always has the market on its toes with exceptionally well-designed, sleek gadgets that just sell themselves. Similarly, Apple Watches Series 6 is such a good looking watch that many people just consider it for its looks more than for its features. It has a beautifully crisp and vibrant OLED screen that measures 1.73 inches in size. The watch also has the iconic squarish shaped display, along with a thickness of about 44 mm. The product comes with a charging cable, but does not have the power adapter for environmental causes, just like all other Apple products. You will get a trendy yet chic single looped, braided strap with the watch. Health tracing features, especially the oxygen level meter is the highlight of this product as it is better than all the prior models.
Fitbit sense
If you are looking for a smartwatch that primarily focuses on your health and fitness, then FitBit's premium watch series called "Sense" should be your pick. These watches have excellent features such as sensors that monitor your temperature, blood oxygen levels and heart rhythm. While these are very insightful, they can also be entertaining at the same time to have such detailed data about your health.
The watch features a square-shaped touchscreen with no crown or button. The large screen has a very vibrant and bright-colored display quality, which is a huge plus point. It comes with an ECG app, and has an exceptional battery life as well! You can use third-party apps like Spotify and Amazon Alexa, along with Fitbit Pay too. If you have cheap internet plans with you everywhere, then you can just make the most out of the Pay app and go entirely digital when shopping for leisure or for necessities.
Garmin Vivoactive 4
With a beautiful and simple white strap and round dial, Garmin Vivoactive 4 might really be worthy of your money. You can count on this smartwatch to provide you with features like smart payment, fitness tracking, training plans, and breathing monitor. You can download third party apps and store on the device as well. Oximeter, respiration tracking and underwater optical heart rate meter are some sensors and meters you can get with this smartwatch. The best part? It is compatible with both iOS and Android devices, so that will never be an issue!
Final thoughts
If you don't think you have the budget to afford the full-scale Garmin Vivoactive 4 smartwatch or one from the Apple series, then you can switch to Apple Watch Lite series for an affordable alternative. Moreover, there are multiple products by Fitbit that fall into the affordable price spectrum. Of course, this might mean you have to compromise a little on the features.