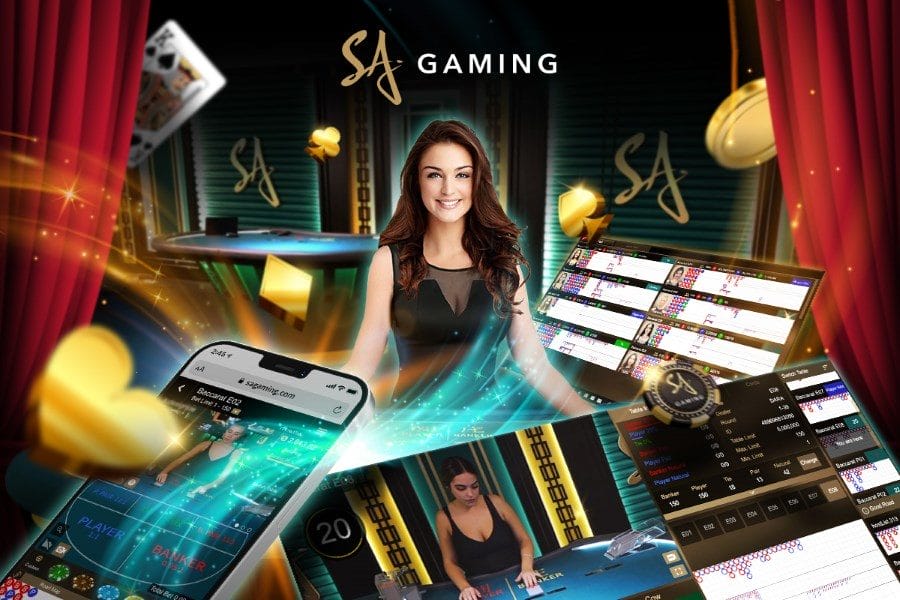 If you are an Asian who is looking for an online casino website, then we have just the perfect and well-known website for you.
The website is called "SA Gaming".
SA Gaming, founded in 2009, is a Manila-based online gaming developer and supplier. Although not as famous in the western world, the company's games and live dealer studios are extensively distributed among Asian online casino websites.
Their studios and labs are in the Makati City neighbourhood of Manila, Philippines, and the firm is licensed by the local government.
As SA Gaming solutions are approved by independent regulatory bodies GLI and BMM test labs, this is the reason, it was named as the "Best Online Casino Solution" in 2017 at the Asia Gaming awards?
How Good Is SA Gaming?
SA casino is famous for its live dealer streams, which are growing with other vertices in certain sectors of the market.
Because of the excellent East and West themes, additional mechanics bonus, and works of art on their premises. They are becoming popular each preceding day.
Live games are utilizing the latest HTML5 smart streaming technology and the perfect transition from game to game. The matched collection contains upgraded and regular betting versions such as dragon tigers, baccarat, blackjacks, fan tan, sic Bo, and roulettes, with multiple betting and concurrent game statistics as well as side-bet capabilities.
Happy news for the players is that the SA Gaming app is available on many websites where players can also participate in the platform. Whenever gamers download SA Gaming on their mobile devices, they also get access to SA Casino.
You Can Play Five Types of Games Here in SA Gaming
Live games
Slot games
Multiplayer games
Proxy Betting games
HTML5 Mobile
Live Games :
Baccarat is played using an 8-deck shoe and has ten different ways to play. At any given time, players can bet on up to 16 different tables. There are additional non-commission and speed versions also available.
Roulette is a single-zero game that includes racetrack betting, hot and cold points, comprehensive statistics, and history in a clean UI with fast-paced games.
Blackjack provides one-on-one table play as well as side bets.
Slot Games
The Shanghai Godfather has a mixed pattern of American gangsters with Tommy guns and a femme fatale wielding a derringer, all with a 1930s motif. The game was developed and published using HTML5, allowing users to play it on a variety of devices.
It's one of the most popular SA gamings. Free spins are initiated by scatters, and the game has a unique trait that the creator hopes will pave the way for additional titles in the future. Mysterious wilds can appear throughout both the base game and the free spins round.
Cheung Po Tsai is based on the late 1700s and early 1800s experiences of a pirate named Lore. Some of the game's typical elements include stacked symbols: wilds, fortune chests, and multipliers as one follow the folk hero in the game to win in the Battle of the Tiger's Mouth.
Fantasy Goddess is an animated game that reintroduces sensuality and Asian beauty. Fantasy Goddess is an exciting game that leads to Asian beauty and sensuality.
Saint of Mahjong: Three progressive jackpots are available in Saint of Mahjong. Three progressive jackpots are available in Saint of Mahjong. Four excellent mahjong players are vying for the title of Saint of Mahjong in this game. To win the mantle, players must gather all 144 tiles using features in the slot game.
Multiplayer
Fisher Man's Gold : 
Fisherman's Gold is the company's main arena-style game, which is available on both PC and mobile phones. The game has multi-lock on and auto-fishing, which is accessible by clicking on the sorts of fish that the player wants to target, causing the cannon to fire on only that type of fish.
Proxy Betting Games.
SA Gaming allows land-based casinos to live-stream their table games in HD video. Players will be able to watch live table activities and wager on games from afar.
But remember one thing as some forms of actual proxy betting are prohibited in some areas, don't expect to be able to tell a proxy at a Macau table to place bets on your behalf.
HTML5 Mobile
SA Gaming's products are constantly updated to include the most up-to-date technology. HTML5 provides the same freedom to consumers on any Android or iOS device, such as an iPhone or iPad, without the need to install software or apps.
Wrapping up
So if you want to play on a gaming platform that has a plethora of options for you, then this is the right one for you. Don't wait; just dive deep into the SA Gaming experience.
I am sure once you start exploring SA gaming there will be no turning back for you.
I am also sure that you will thank me later