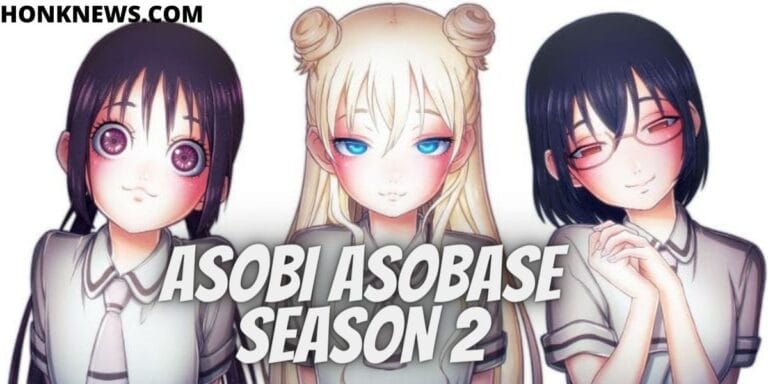 Are you all interested in watching the Anime series? I have watched Anime series recently, Asobi Asobase. And yes, from that moment I am wondering if Asobi Asobase Season 2 is coming or not? Let us find out together.
Asobi Asobase: About the Series
Asobi Asobase is a Japanese manga series. It was written and illustrated by Rin Suzukawa. The series was first serialized in 2015 on Hakusensha's Young Animal Densi website in the month of June. By February 2021, the series has eleven tankobon volumes. The series was adapted as an Aime television series by Lerche. And from 8th July to 23rd September 2018, the series was aired in Japan.
The anime television series was directed by Seiji Kishi. Shō Tanaka, Shigeki Yamada, Aya Iizuka, Kaori Kimura, and Mitsuhiro Ogata have produced the series. Yūko Kakihara has written this anime television series. The total number of episodes is 12, which includes OVA and two special episodes.
The series revolved around Hanako, Olivia, and Kasumi. They are second-year students at an all-girls middle school. And they have been the member of Pastimers Club. The three girls were the only three members of the club. The club was not officially recognized but the goals and the ambitions of the club were very inspirational.
Read more about Violet Evergarden Season 2. 
Asobi Asobase: Characters of the Series
The characters of the anime series are:
Hanako Honda (Voiced by: Hina Kino) Hanako is Olivia and Kasumi's classmate. She is one of the most energetic people in the group, and she never fails to actively participate in the games in the school. She is also an intelligent member of the group and always excels in academics and sports, despite having no interest in them. Her family is very wealthy and noble.
Olivia (Voiced by: Rika Nagae) Olivia is Hanako and Kasumi's classmate. She was born and brought up in Japan, but she never fails to prove that she is an American transfer student. And for that, she speaks broken Japanese.
Kasumi Nomura (Voiced by: Konomi Kohara) Kasumi is Olivia and Hnako"s classmate. She hates playing games because her sister used to tease her when she was young. She is extremely interested in writing about BL fantasies and keeps writing that all the time. She was also very bad at English. She is androphobic.
Chisato Higuchi (Voiced by: Ryōko Maekawa) She is a female teacher at the school, who is often in the dilemma of not being able to find a husband, also she is always blackmailed to become the advisor for the Pastimers Club.
Student Council President (Voiced by: Honoka Inoue)  She is a quiet girl. Despite her calm nature, she won the position of Student Council President, with her powerful speech of Vice President.
Asobi Asobase Season 2: Let Us Learn More 
Asobi Asobase was one of those series, which was so underrated but the audience gave it the title of a masterpiece. The show is one of the most loved comedy shows, and it was praised by the viewers as well as the critics. There is no information regarding the release of the show, but the show is not canceled yet.
So yes, we can hope for season 2 of Asobi Asobase to come. Till then if you have not watched Asobi Asobase, go and watch now Netflix.
And if you want to read more about Btooom Season 2, click here.