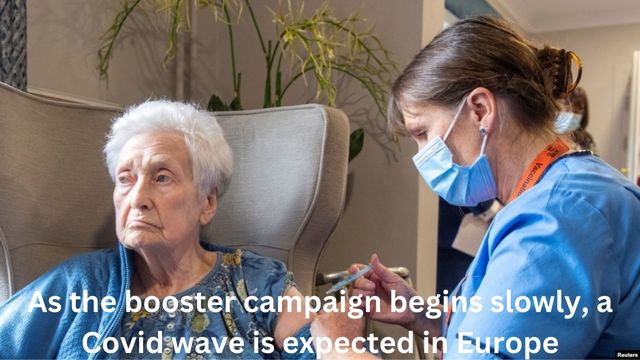 As the booster campaign begins slowly, a Covid wave is expected in Europe
As the weather turns cooler, there appears to be another wave of Covid-19 on the horizon in Europe. Public health professionals have warned that booster uptake would likely be constrained by vaccination weariness and misunderstanding over the types of injections that are available.
Newer Omicron sub-variants are overtaking older Omicron sub-variants, which dominated this summer but still lag behind most infections. Scientists are monitoring hundreds of novel Omicron strains, according to World Health Organization (WHO) authorities this week.
Despite a sharp decline in the number of tests, WHO figures released late on Wednesday indicated the number of cases in the European Union reached 1.5 million last week, an increase of 8% from the week before. The quantity of cases decreases globally.
In recent weeks, hospital admissions have increased throughout many of the 27-nation bloc's members, as well as in Britain.
According to statistics gathered by the unbiased scientific foundation Gimbe, the number of hospitalizations in Italy for Covid-19 symptoms surged by over 32% in the week ending Oct. 4, while the number of admissions to intensive care facilities increased by about 21%.
Covid hospital admissions in the UK increased by 45% from the previous week during the same week.
With two types of injections covering the BA.1 and BA.4/5 sub-variants made available alongside the current first-generation vaccines, Omicron-adapted vaccines have been made available in Europe since September. Only the BA.1 custom shots have received approval for use in the UK.
Only a small subset of individuals, such as the elderly and those with weakened immune systems, have received approval from European and British officials for the most recent boosters. Public health professionals believe that the "option" of a booster vaccine will further complicate issues and cause uncertainty.
However, there are few people who are willing to take another shot, which for some could be a fourth or fifth.
The message that it's over combined with the lack of a significant marketing campaign is likely to restrict adoption for individuals who may be less concerned about their risk, according to Martin McKee, professor of European public health at the London School of Hygiene and Tropical Medicine. "Overall, I worry that take-up will be much lower."
A significant fraction of the population might also have experienced a Covid event recently, according to Penny Ward, a visiting professor of pharmaceutical medicine at King's College London.
Some people might think that because they completed the initial course and later experienced Covid-related illness, they are immune.
According to data from the European Center for Disease Prevention and Control, since September 5, when the introduction of new vaccinations in the European Union started, almost 40 million doses of vaccines made by Pfizer-BioNTech and Moderna had been shipped to member states.
However, according to ECDC data, weekly vaccination doses given throughout the EU in September ranged between 1 million and 1.4 million, down from 6-10 million in the preceding period.
The idea that the pandemic is finished and has thus created a false sense of security may be the hardest to swallow.
Adam Finn, chair of ETAGE, an expert body that advises the WHO on vaccine-preventable diseases in Europe, said: "There must be some complacency in the fact that life seems to be back to normal – at least with regard to Covid and people now have other financial and war-related concerns."
He continued by saying that other lawmakers had made mistakes.
The Italian scientific foundation Gimbe stated that the administration, which would be replaced soon after elections, was unprepared for the autumn-winter season, highlighting the fact that the government had suppressed a publication on the management of the epidemic.
The Health Ministry declined to respond.
In the meantime, UK officials issued a warning this week that the already overburdened National Health Service could come under pressure from a recurrence of Covid-19 and the flu.