In this article, we will talk about the relationship status of Angela and Michael from "90 Day of Fiance."
TLC's '90 Day Fiance' success spawned other intriguing spinoffs, including '90 Day Fiance: Happily Ever After.' The latter, as the name indicates, is about cross-border couples who have resolved their differences and married. However, married life offers new challenges, and while cameras capture their daily lives, we see how each couple works hard to make their marriage work.
Angela Deem and Michael Ilesanmi have had a bumpy path since they met. Fans believed that after they married, the problems would go away, but that was not the case, and the pair found themselves in a public feud on social media. Nonetheless, because the couple has an on-again, off-again relationship, people want to know if they have reconciled. So, shall we find out if Angela and Michael are still together?
Angela and Michael's 90 Day Fiance Journey
Angela and Michael were unable to trust each other from the start and were often at conflict. They struggled to communicate well and would argue over little matters. Despite people' predictions that the couple would split up, they married in a stunning wedding in Michael's native country of Nigeria. Unfortunately, that was only the beginning of their difficulties, since even though Angela went to the United States and applied for her husband's visa, it was delayed owing to the Covid-19 outbreak.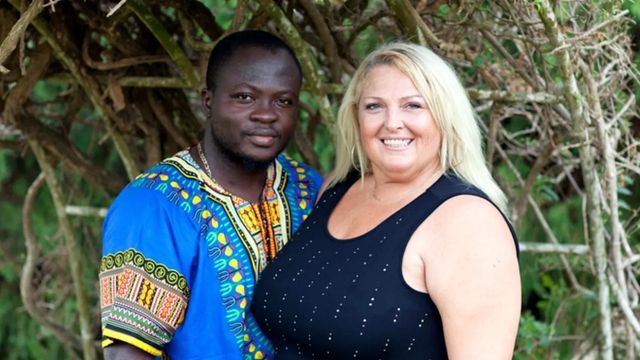 Unfortunately, the physical distance caused a schism between the pair, resulting in a major brawl at the '90 Day Fiance' season 6 tell-all. Michael's relatives said throughout the show that Angela should have tried for a baby instead of undergoing weight reduction and plastic surgery operations. Despite the fact that the latter took the assaults personally, the Nigerian native was able to mediate the situation and restore their marriage.
Related Topic- Who Is Big Latto Dating? Who Is the American Rapper's Boyfriend In 2022?
Regardless, the problems remained, and split rumors surfaced in early 2022. Angela stated that she frequently provided Michael money for groceries and bill payments, but his demands grew on a regular basis. Furthermore, she said that he begged her for money around Christmas in 2021, and when she declined, he responded by reactivating his Instagram account.
Fans should be aware that Angela and Michael had been using a single social media account since their relationship began; hence, she found his response rather distressing. Angela was enraged when he demanded $5000 to cancel the account, and the two got into a yelling war over a video conversation.
Is Angela Deem still dating Michael Ilesanmi?
Unfortunately, it appears like Angela and Michael have had a falling out as of now. Interestingly, the pair has always used a single Instagram account for both of them; nevertheless, the US resident has recently seized control of the account, and in addition to changing the username to her name, she has erased the photos they had together. Michael, on the other hand, was seen with his '90 Day' co-star, Usman Umar, alias Sojaboy, with whom Angela had a falling out.
Related Topic- Devin Booker Dating Life: Every Star He's Dated| Married| & Divorced!
Furthermore, in a now-deleted Instagram story, Sojaboy referred to Angela as a "scammer" and accused her of stealing Michael's money.
Aside from the extremely public social media fight, the couple has hardly interacted in public in recent months, and there have been rumors that Angela is seeing a new man named Billy. Although nothing has been proven as of yet, and although only time will tell what is going on with Angela and Michael, we can reasonably presume that their relationship is going through another tough patch.
Stay Tuned for more Information & Visit- Honknews.